With pink-streaked hair and guitar in hand, 23-year-old Jessica Meuse easily broke the ice with the American Idol judges when she announced she was from Slapout, Alabama. Harry Connick Jr. and Keith Urban immediately jumped on the unusual name of her hometown and couldn't resist chattering about it. After giving up on talking over them, Jennifer Lopez joined in the banter, giving Jess a minute to catch her breath before her audition.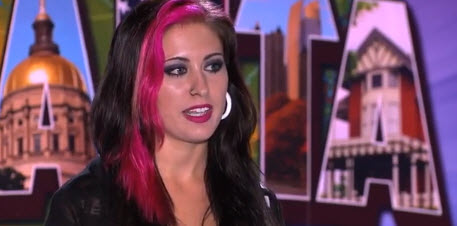 When Jessica Meuse did start singing, we were instantly on board with her earning a Golden Ticket to Hollywood. Performing an original song for the American Idol judges can be a risky move, but Jess showed off amazing vocals and a nice turn of phrase with her performance of "Blue Eyed Lie." We haven't heard a voice anything like hers yet this season, and that's always exciting.
Harry Connick Jr. said Jess gave off a bit of a Stevie Nicks vibe and we agree. They also liked her body language while she was playing and the song itself. We'd like to see Jessica Meuse leave off the guitar and get totally rocker fierce on stage, because we think she could pull it off fabulously. Hopefully we'll see Jess go full on rock goddess in Hollywood, because the judges decide she's won a Golden Ticket to the next round.