Jessica Meuse appeared on the American Idol auditions for Atlanta and easily impressed the new judges to earn a Golden Ticket, but how far does this rocker make it on Season 13?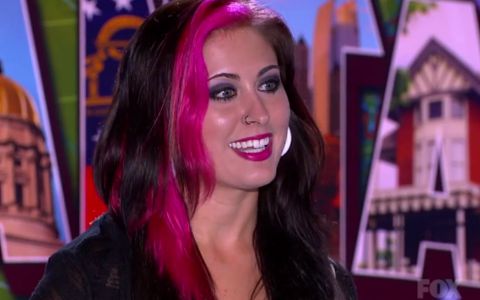 The judges were blown away and fawned over Jessica's performance of her original song "Blue Eyed Lie". Harry says he can see her hanging out and relaxing with her entourage. Keith likes the way she holds her guitar and carries all the elements of the performance. So yes, they're clearly all impressed.
So how far does Jessica Meuse make it on American Idol Season 13? According to the Idol spoilers this year she makes it through Hollywood and on to the much coveted Top 31 spot.
Jessica won over the judges and I think she'll do the same with voters, but will there be enough votes to get her to the end? We'll have to wait and find out on American Idol 2014!
click images to see full-size view
Jessica Meuse auditions on American Idol XIII:

Video: Jessica Meuse performs "Blue Eyed Lie"