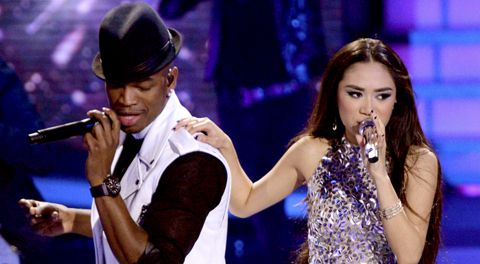 Jessica Sanchez on American Idol 2013 season 12 performed 'Tonight' with Ne-Yo as part of the results show. Viewers found out who was voted off American Idol this week and they were treated to the debut of Jessica's new single.
The single marks an upbeat departure from many of the ballads last year's viewers may have come to expect from Jessica and it was clearly a smart choice. If Sanchez had broken out a party song like this on last year's finale show we may have had a different winner!
Jessica Sanchez performs "Tonight" with Ne-Yo:
What do you think of Jessica's collaboration with Ne-Yo and her choice to hold it back from fans until she could debut it on American Idol 2013 last night? Considering the background story Idol played featuring all of Jessica's success in the past year it seems she can do no wrong these days.
Fans can get ready for even more airtime for Jessica as she prepares for a story arc appearance on FOX's "Glee" though we're still waiting on more in-depth details on her role in the TV series. Wow. There's no stopping this girl!