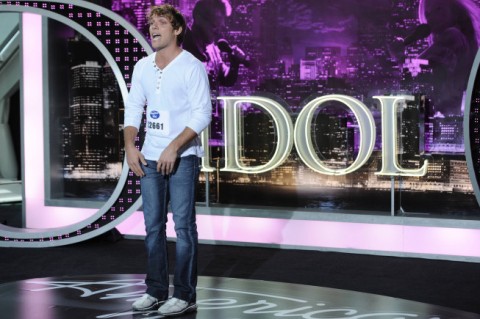 Season 11 hopeful and early fan favorite Johnny Keyser made his comeback Thursday night during American Idol 2013 auditions in Chicago.
This season Johnny seemed a little toned down. There was no backstory, no season 11 flashbacks, just a good solid performance. Last season fans were disappointed that Johnny didn't make the cut, but there were a number of reasons why he didn't go on. Some say his attitude played a part in that. But this season he was far more subdued.
And this time around he knows what to expect and I can only imagine having the drive to come back again only means you're really dedicated and driven.
So Johnny got his golden ticket to Hollywood Week again, but does he make beyond that point? Find out by checking out our American Idol 2013 Top 40 spoilers list.
Below we've got Johnny's audition from Thursday night. Let's take another look at his version of "Try A Little Tenderness."