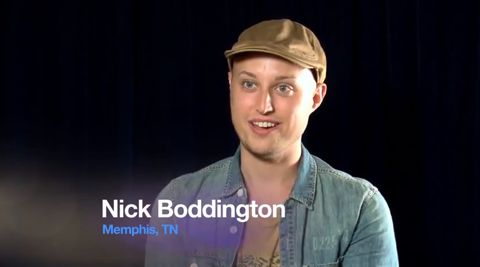 American Idol 2013 continues to be the season of the retreads as we meet our next Top 40 singer Nick Boddington. Nick auditioned last year and made it as far as the Las Vegas rounds before being cut, but this year he's back and he's going for it again.
Nick is from Memphis, TN but has spent a few years living in New York as he's pursued his music career. In his previous "Road to Hollywood" video from Season 11 Nick discusses his music interests being rooted in R&B, Country, and Pop which makes for quite a mix.
Boddington has been on our Top 40 Spoilers list for awhile now and the official confirmation that he made it through New York and on to Hollywood further supports that rumor. While he wasn't featured on premiere night we did find a few of his videos on YouTube so you can watch those below.
Video – Nick Boddington performs "Grace"

Video – Nick Boddington performs "Emotions"

Video – Nick Boddington on the "Road to Hollywood" Season 11

Video – Nick Boddington on the "Road to Hollywood" Season 12