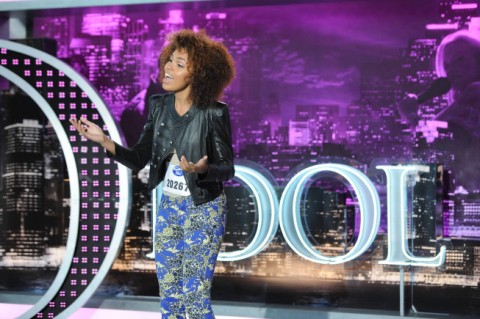 After being slightly underwhelmed with Wednesday night's season premiere of American Idol 2013, I'm happy that I thought Thursday's auditions from Chicago were a huge improvement.
There were a lot of standouts — some good and some bad. Let's take another look at those now.
The Standouts 
Mackenzie Wasner, 17. I'm not sure what the song was but she had a great sound. She's not polished, but it's the roughness in her voice that makes it work. And the show clearly loved her because not only did we get a backstory about her dad being a musician, but they let her sing for like 20 minutes it seemed. She gets four easy yeses.
Kiara Lanier, 21. Her version of Celine Dion's "The Prayer" was pretty outstanding. She got a lot of "wow"s and yeses from the judges. I can't tell if that was just a really well-rehearsed song or if she's an actual natural talent. Does that make sense?
Watch Kiara Lanier's audition performance of "The Prayer."
Stephanie Schimel. Uh-oh, The Voice voice that I detest has made its way to American Idol. It's that weird for the sake of being weird voice that I cannot stand. Nicki wasn't wowed, thankfully. But the others were. She gets three yeses and goes on to Hollywood.
Gabe Brown. His audition was interesting. And he's rock-ish. But i don't see him going anywhere. I wouldn't have put him through, but the judges did.
Isabelle Parell, "Baby It's Cold Outside." That was an interesting song. Her tone was pretty nice though. It's nice and raspy, but since she decided to sing that song I wonder about her. She gets through to Hollywood.
Watch Isabelle Parell's audition performance of "Baby, It's Cold Outside."
Griffin Peterson. Nicki had the hots for him, but it was his voice that got him through to Hollywood. OK, maybe not. He has a pretty unique sound. And he looks the part, as Nicki said.
Curtis Finch Jr. Well we've got our gospel singer for the season. Yay. Actually, his voice was pretty remarkable and I have a feeling he's going to go far because who else is going to make my ears bleed all season? I'm kidding! But if he makes it through, I can promise you right now that I'll be complaining a lot about this guy in my recaps.
Watch Curtis Finch Jr.'s audition performance of "God Is Able."
Mariah Pulice. Backstory alert. This time it's anorexia. Eyeroll. Her audition wasn't that great from what I heard. But after that story do you say no? Well you don't (I mean I would have, but whatever). She's through to Hollywood.
Brandy Neely. She delivered the best audition of the day. Her version of "Your Cheatin Heart" was emotional and strong. She has a great voice. She got four yeses and heads to Hollywood.
Josh Holiday, 24. This Texan got four easy yeses for his pop-crooner version of "Back At One." He's got a solid tone and a decent look and is off to Hollywood to see what happens next.
Johnny Keyser. It's the return of Johnny. Season 11 early favorite is back for another shot. And he's better this year than last. He took on a pretty hard song too for an audition. Mariah thinks he is a star and the others loved him as well. He's through to Hollywood again. Pay attention to this guy because I'm calling it now. He's going all the way. I'm not saying he's going to win, but he's going to stick around this time.
Watch Johnny Keyser's audition performance of "Try A Little Tenderness."
Kez Ban. Kez is definitely an interesting person. I expected it to be a complete joke audition, but she ended up having on of the most interesting voices of the whole episode. And she performed an original number. It was all actually really good. She'd get an easy yes from me. And the judges found it easy too. She's through to Hollywood.
Watch Kez Ban's audition performance of "Pinocchio"
Lazaro Arbos. He was the last audition of the night. And he was the best of the night. He has a pretty major stammer but it completely disappears when he sings. And he doesn't just sing, he SINGS. His version of "Bridge Over Troubled Water" was great. I usually hate the backstories, but I actually found this one legit. Very impressed that this guy was put though to Hollywood.
Watch Lazaro Arbos' audition performance of "Bridge Over Troubled Water."
By the end of the night, 46 American Idol 2013 hopefuls were given golden tickets and move on to Hollywood Week. I was much more impressed with Thursday night's episode than I was with Wednesday's.
What did you think of the talent from Chicago? Who were your favorites?