We first saw American Idol 2014 contestant Brandy Neely in season 11, although she appears to have actually first tried out for the show in season 10. After failing to make the live shows in season 11, Brandy came back yet again to audition again for season 12, but once more did not make it past Hollywood Week. Not one to give up on her dreams, Brandy is back again for the fourth time on American Idol season 13, and this time she's made the Top 30.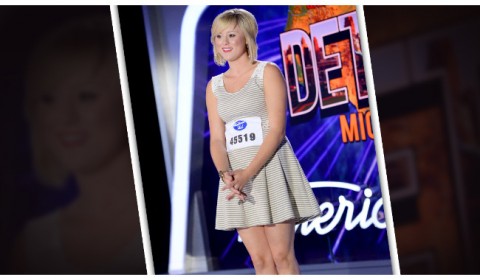 American Idol Brandy Neelly Audition:
Background:
Teenage country singer Brandy Neely made it past the American Idol judges in season 11 and season 12, but after that she just couldn't manage to survive Hollywood Week either time. MJsBigBlog rustled up a clip of her from a season 11 promo, and we were immediately reminded how very good she was during auditions.
In her season 11 Road to Hollywood video, Brandy said being eliminated in season 10 moved her to go home, work harder, change whatever she was doing wrong, and come back and be the best she could possibly be.
Louisville, KY native Brandy Neelly is one of those hard luck turned to gold stories we get every season on every reality TV competition. Brandy's adopted parents, Cheryl & Michael Neelly, adopted her when she was just six months old after her birth parents abandoned her to social services. Her adopted mom is actually her birth father's sister. She told American Idol that he and his wife had a lot of "physical and emotional issues and they weren't able to take care of her."
Brandy, who just graduated from North Oldham High School last year, hasn't let her rough start in life keep her down. She she obviously has the tenacity to keep going after what she wants even after having her dreams smacked down repeatedly. Last year, Brandy auditioned again for season 12 at the Chicago auditions and once again wowed the American Idol judges into giving her a Golden Ticket to Hollywood. Her performance of "Your Cheatin' Heart" by Hank Williams landed four pleased yes votes from judges Nicki Minaj, Keith Urban, Randy Jackson, and Mariah Carey.
In her Road to Hollywood interview video for season 12, Brandy said she has been dreaming of winning American Idol "forever" and she vowed to come back "as many times  as it takes me to get on that stage." She talks about how it is the "third year doing it" (which means it will be the fourth this season) and every time she does, she "feels something different." Last year, her feelings that it was "fate" and "her year," but it didn't end up panning out for her.
Sadly, Brandy ended up getting eliminated during Hollywood Week after a drama-filled group round (in which she performed with season 12 finalist Kree Harrison). Even then, however, she was already planning her next move, saying as she left the stage that it would not be "the last time you're going to see Brandy Neely."
Brandy said she is inspired by her late grandfather and she believes she is unique because she is "silly, and the average teenager out there can relate to me. I think that I'm the girl next door but there's a lot more to me. I have a huge belting voice when I want to use."
While Brandy is out there going after her dream to be a singer, she's also studying the other side of the music business. It says on her rather sparse Facebook profile that she is currently attending Eastern Kentucky University. On Twitter, she told one of her followers that she just finished her first semester and is studying "music industry with a minor in management."
As one might expect, Brandy is very inspired by Carrie Underwood, who was quite determined herself to finally get to that American Idol finale and win it all. Perhaps in an effort to distinguish herself a bit from her Idol, however, Brandy has undergone quite the makeover for her season 12 audition. She's chopped off her long blond locks in favor of a short bob. She's also changed up her style from what we can see in her photos and videos to give off a more grown-up and sophisticated vibe.
Listen to more from Brandy on her YouTube channel.