One of our favorite girls from the American Idol 2014 auditions in Salt Lake City is 16 year old student Kenzie Hall. She is admittedly nervous in front of American Idol judges Keith Urban, Jennifer Lopez and Harry Connick Jr. However, that doesn't stop her from giving a terrific performance.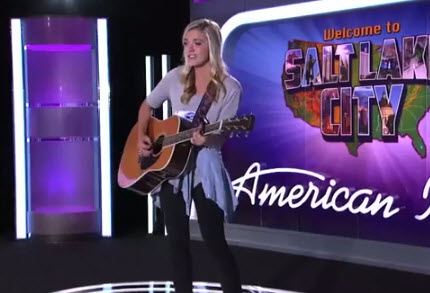 Once Kenzie Hall gets going with her audition of "I'm Gonna Find Another You" by John Mayer, the judges just can't stop smiling. She has a gorgeous tone, a sweet voice, and a delightful personality. We like her a lot!
We thought it would have been a crime if the judges didn't give Kenzie a Golden Ticket. Thankfully, they didn't feel like breaking the laws of good music and put her through to Hollywood!
>> Click here for our full American Idol recap of the Salt Lake City Auditions.