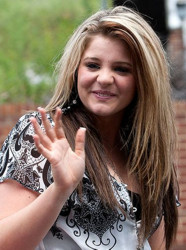 Life continues to look good for American Idol producer's chosen one, Lauren Alaina. She might be losing to Scotty McCreery in the sales column, but she's got a big week ahead of her that should make even McCreery jealous.
First up is a trip to the studio in Nashville where Lauren will begin recording her debut album for Mercury Nashville. No details yet on a playlist for the freshman release, but her current radio hit "Like My Mother Does" should definitely be on there.
After some work in the studio Alaina will make an appearance at the CMT Music Awards on Wednesday where she'll be a presenter. Hopefully she can find another prom dress real fast.
Her week will wrap up with her concert debut at Grand Ole Opry on Friday. Opry's website offers no details on the Friday show or any other events featuring Lauren Alaina, but if you're in the Nashville Friday this evening you've got a chance to see her perform live.
Source: MSNBC