Based just on his American Idol 2014 audition video, we were really digging hopeful contestant Malcolm Allen right from the beginning. How can you resist a guy who plays air bass in bright red shoes before launching into an awesome rendition of "Superstitious" by Stevie Wonder that makes Jennifer Lopez want to throw things at him?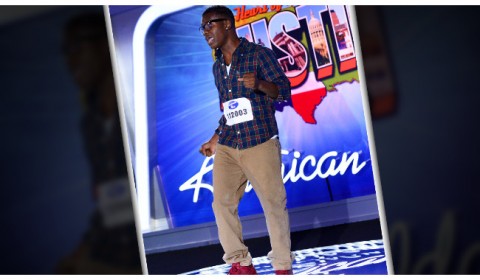 American Idol Malcolm Audition:
Road to Hollywood Video:
Background:
Deli grocer Malcolm Allen, (a.k.a. Mac Anthony) currently hails from around Little Rock, Arkansas. Music is apparently the primary purpose of Malcolm's life right now and he's not interested in putting up with any crap in his life. He puts that right out there with a note on his Facebook about page. "My life is moving in a new direction. No time for these part-time friends cause they always let you down. So if you aint talkn bout money/music..then don't even bother."
According to his Facebook likes, Wilbur D. Mills High School graduate Malcolm is a fan of bowling, swimming, and pool billiards. His favorite entertainment includes Underworld, Iron Man, Booty Call, The Lion King, American Idol (of course), Bones, CSI: Miami, and House. His favorite actor, it appears, seems to be Martin Lawrence. As for musical favorites, Malcolm lists Jessica Reedy, fellow American Idol 2014 contestant George Lovett, Kelly Clarkson, Ciara, and John Legend among those he follows.
Malcolm has a number of videos up on his Facebook page, and plenty more on his YouTube channel, including this rather awesome remake of the Family Guy theme song.
Malcolm Allen has made it to the American Idol 2014 Top 30, but will he make it to the finals?