The last round of American Idol performances for 2014 Hollywood Week has finally arrived! To win a place in the semifinals, the remaining Golden Ticket winners will have to sing one more time for American Idol judges Jennifer Lopez, Harry Connick Jr., and Keith Urban. This will be their last chance to earn their way to the Top 30 and the pressure on these young hopefuls is incredible.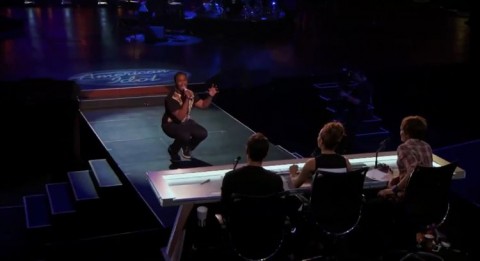 We know from American Idol spoilers videos we've seen that stress is wearing hard on the singers in this last round of Hollywood Week. Poor Neco Starr, for example, will be tackling "Halo" by Beyonce for his final song with his voice nearly gone from the strain of the competition. We are sure he isn't the only hopeful close to a breaking point at this point.
Of the almost 80 contestants still in the running, only 30 of them can move on to the semifinals. Thanks to American Idol 2014 spoilers, we already know which of them will get through, but that doesn't make tonight any less interesting to watch. This is the point in the game where strong favorites suddenly fail, and dark horses suddenly burst into the light and become front-runners.
Who will shine tonight and earn their place in the live voting rounds? Which hopefuls will crash and burn in their final chance to impress the judges and the viewers? Join us for our live American Idol recap starting right here at 8PM and watch with us!
>> Click to join our American Idol live chat now!  (pop-up window) <<
Please refresh this page frequently for the latest updates and performance videos in our American Idol 2014 recap.
First up tonight we have the lovely Emily Piriz with "Stars" by Grace Potter. She's playing the piano and sounds like an angel. The American Idol judges look like they are into it and we think she is fabulous. But will it be enough to get her into the Top 30? The judges convene and the decision is… Yes!
Next to learn his fate is Spencer Lloyd, who impressed Jennifer Lopez with his gorgeous eyes and the rest of the judges with his beautiful rendition of "Say Something" earlier in Hollywood Week. They weren't so taken with his original song for the last solo round though and we're left hanging through a commercial break to find out if he makes it. And we're back and… he's through!
Former The X Factor season 2 contestant Jillian Jensen is next to face the American Idol judges and she's doing an original song as well. Hers comes across way better than Spencer's original, however. It's actually a gorgeous tune and she sounds wonderful on it. She says she wants to show who she is as an artist and hopes the judges will appreciate it. Well, it looks like that strategy worked because she's going to the semifinals!
Now we have Madelyn Patterson, who has spent almost as much time leaking tears on screen as she has singing. She's overcome with nerves about her fate on American Idol 2014 as she goes in to face the judges. We really liked Madelyn but she's had some rough moments and… we're not shocked when Keith Urban tells her they have decided to send her home.

Madelyn Patterson, Hollywood Week-2 ~ American… by HumanSlinky
We have a few more no votes flash by for Michael Simeon, Lebryant Crew, and Sabrina Lentini. Then we focus in on the next contestant to face the judges, George Lovett. We haven't really seen much from George so far in the competition, so we're glad to finally get to hear him perform in this final solo round. We think it is a pretty killer song and can see why he's gotten this far. The judges apparently agree and think he should go even further. Welcome to the semifinals George!
Both Shelby Anne Miller and Connor Zwetsch are going home, but Sam Woolf hopes he isn't going to be joining them. He's certainly got the looks, but so far we think his performances have been a little weak here and there. He decides to be risky by doing an original song and we're happily pleased with the result. When he meets with the judges, they tell him he might just have the 'total package' — which means he's going through to the Top 30!
Now we have one of our favorite girls up next with Keri Lynn Roche. She gives a gorgeous rendition of "I'd Rather Go Blind" by Etta James. But, wait, what are the American Idol judges doing? They've decided to send her home! Well, that's our first big disagreement of the night with the judges. She should have gone through!
Malaya Watson is up now and we're rooting for her to go through based on her great performances so far. Her solo performance is a little wobbly though and Harry Connick Jr. actually stops her and makes her and the band get together better. This time it works much better and apparently it's enough to sway the judges to put her through to the Top 30.
Well, this is interesting. Maurice Townsend has a very different take on "Wrecking Ball" by Miley Cyrus. We aren't sure about the styling of the song, but Maurice certainly has an impressive voice and it is definitely interesting. When it is time to face the judges, Keith Urban tells Maurice he's heading to the Top 30!
Random appearance by former judge and now mentor Randy Jackson, which is our foreshadowing for his boot camp coming up for the Top 30 with Adam Lambert and Chris Daughtry. Harry and Keith 'audition' for Randy, which is rather amusing, but we think Harry might have been a little off pitch… kidding, kidding!
Our next hopeful to face the judges is Bria Anai Johnson, who has so far been doing quite well in the competition and garnered a lot of fans. Her solo performance is absolutely fabulous and the judges would be crazy not to put her through. They aren't, and she is moving to the Top 30. She fakes out her mom at first though like she didn't get through, which is just mean!
Now we have Jessica Meuse and Jesse Roach. We've really enjoyed both of these ladies and wish they could both go through. However, only one of them is going to. Jesse Roach doesn't do so good with her solo song. Jessica gives a much better performance with an original song, but she was weak in the group round.
The judges want to hear from both ladies again, right now! Afterwards, they tell the girls it was very, very close… but they've decided that Jessica will go through and Jesse will go home.
It's time for another guy with country singer Dexter Roberts. He seems like a sweet dude and he's got a voice that is just nice to listen to. He's not our favorite, but we can see why the judges decide to pass him through to the Top 30.
Decidedly NOT country singer Emmanuel Zidor is next up and he's had both good and not so great moments this season so far. He tends to be overly dramatic and over sing, but when he gets it right, he's awesome. His solo performance is luckily one of those terrific moments and it wins him a Top 30 slot from the judges.
Now we have MK Nobilette, who didn't do so hot in the group performance because she was sick (although we thought the brief clip we heard wasn't TOO bad). Her solo performance is stellar though and gives Jennifer Lopez goose bumps. J-Lo says she's not a typical American Idol contestant and MK says yes, she's gay, but the world is changing. The judges agree and decide to put her through to the Top 30.
Kristen O'Connor is another girl we really liked in the auditions, but she did not have a great group performance. Her solo performance is much better however and she totally redeems herself in the eyes of the judges. J-Lo says it shows she can come back even when she's down and they give her a trip to the Top 30.
Moving along now to Jordan Brisbane, who we haven't seen much of since the audition round. Finally we get to see him again and it's his 16th birthday. Happy for him, it looks like his biggest present of the day will be spot in the Top 30 from the American Idol judges!
Time for a few more sad no votes from the judges for Casey McQuillen and Nica Nashae. They will not be going through to the Top 30.
One of the next two contestants will also be getting the boot, as the judges ask to see Leah Guerrero and Andrina Brogden together. We'd love to see both ladies go through because they both have terrific voices. The judges only want one, however, and they decide that's going to be… Andrina. Leah is going home.
Now we have Malcolm Allen, who sparks a debate between Harry and Jennifer. Harry thinks Malcolm has the voice, but he's not sure how marketable the guy is. J-Lo says she always remembers Malcolm. Looks like that's enough to get him through, and Malcolm is going to the Top 30.
We always smile when we see Alex Preston perform, even if he isn't the kind of performer you might typically expect to see on American Idol. He's quirky, different, and his vocal style is undoubtedly unique. These happen to be all the reasons we like him, and apparently the judges agree with us that he deserves to go to the Top 30!
Last up for the night we have C. J. Harris and Casey Thrasher. They've become friends during their time on American Idol and now they are facing the judges together. Usually this means one of the two of them will not be going through to the next round. They are asked to sing again before the final decision is handed down. But… we won't get to find out until tomorrow if one or both of them are going home!
Can't wait until the next episode to find out who makes it to the American Idol 2014 Top 30? We have the spoilers for you here!
>> Next: American Idol 2014: Hollywood Week Final Performances Part 2 [VIDEOS]