American Idol 2014 contestant Andrina Brogden says on her Twitter profile that she is "the girl that's gonna make her dreams come true." With a voice like hers, we believe it!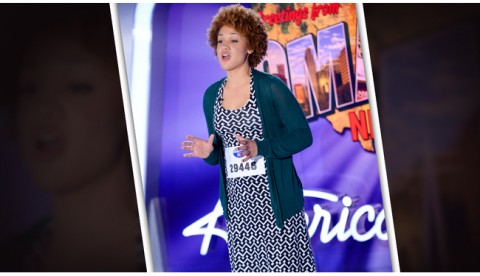 Of all the ladies for 
American Idol season 13
 that we've seen and heard so far, Andrina is definitely among our top favorites. She may currently work as a "Sales Associate" at a shoe store, according to her 
Facebook
 profile, but we think Andrina is headed for much bigger things in life.
American Idol Andrina Brogden Audition:
Road to Hollywood:
Background:
The folks over at MJsBigBlog found an adorable video of Andrina as a child put together by her uncle, Darren Rust, which we just have to post, because it is so cute. Her uncle says he "put this together for my beautiful niece Andrina, who is auditioning for American Idol this week. Go get 'em Drina!" Thus, we learn Andrina has a nickname! (BTW, Andrina's cousin? Jordan Rust might just be finding her way to the show a few years down the road.)
North Dakota native Andrina Brogden is a graduate of West Fargo High School, where she was apparently an athlete as well as a performer. In addition to appearing in productions like Rodgers & Hammerstein's Cinderella with the school's drama department (in which she played the title role), Andrina was also a softball player who made the press for scoring the winning run in a game back in June, 2013. Not only is Andrina gorgeous and talented, but she seems to also have brains as well, if this bit about a project she participated in for her Physics class is any indication.
Andrina says she is currently studying at Minnesota State University Moorhead on her Facebook page, although we don't know what her major is. Unsurprisingly, we found her pictured as a featured member of the university's Concert Choir, which performs "music from the Middle Ages through the 21st Century." The choir is apparently quite the big deal, touring annually during spring break with "destinations ranging from the upper Midwest to Washington D.C. to Great Britain."
According to the interests and groups she lists, Andrina is fond of thrift stores and a supporter of many anti-bullying and anti-abuse groups, including the Impact Statement Initiative, "Boo!" to Bullies, and Hands Are Not Meant to Destroy. Andrina has apparently been on the singing competition track for a while, as we came across a video of her auditioning for 2012 Fargo Star, a regional American Idol-style competition.
On her Vine page, Andrina has several tiny clips that looks like it might just be from her trip to the American Idol auditions in Omaha and they are too much fun! From her Vine and other social media accounts, we just can't help but feel like this girl has all the personality in the world to go along with her stellar pipes.
Andrina Brogden is through to the American Idol 13 Top 30. Do you think we have a potential winner in the making?