Mariah Carey is pulling no punches about what it was really like for her being on the American Idol judges panel for season 12. In a radio interview with Hot 97, Mariah said she detested going to work on the reality show and said that it was pretty much like being in hell and fellow judge Nicki Minaj was the devil herself.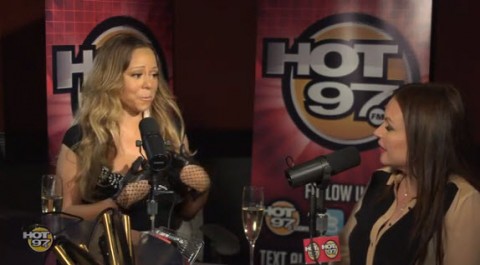 "I thought it was going to be a three-person panel," Mariah Carey said in her interview on the Angie Martinez Show. "They gave me a nice dangling monetary moment, and I was just like … 'Okay. Randy Jackson will be there. I've known him forever, he used to play bass for me.
Mariah apparently thought it would all be no big deal at all. Then the three-judge panel turned into a four judge panel with the addition of rapper Nicki Minaj. The two of them reportedly were at each other's throats right from the start and their feuding both on and off screen became a bigger story than anything having to do with the contestants.
"It was like going to work every day in hell with Satan," Mariah said. Although the singer didn't say who Satan was, we're pretty sure it's obvious she was talking about Nicki Minaj. The two were so nasty to each other, they started a Twitter war bashing each other directly in the public eye.
After talking about how hellish being at the American Idol judges table was, Mariah tried to backtrack a bit and laugh off her previous statements. "I'm just playing. It didn't affect me that much. I was disappointed."