Former American Idol judge Mariah Carey has made it very clear in the press that she did not enjoy her time on the show. Back in November, she revealed that the season 12 panel was supposed to just have three American Idol judges. Then producers threw Nicki Minaj in the mix and everything went sideways.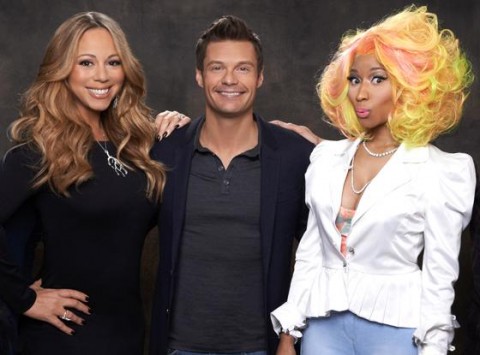 "I thought it was going to be a three-person panel," Mariah Carey said in her interview on the Angie Martinez Show. "They gave me a nice dangling monetary moment, and I was just like … 'Okay. Randy Jackson will be there. I've known him forever, he used to play bass for me."
Mariah was reportedly not pleased when Nicki Minaj joined the judges. While she didn't specifically say she was talking about the rapper, Mariah stated that American Idol 2013 was "like going to work every day in hell with Satan."
In another recent radio interview with Elivs Duran on the Z100 Morning Show, Mariah Carey continued to whine about her experience on the FOX reality show, saying viewers did not get to see the real her. "The real Mariah was so not there… I should have been a mentor on the show and that's it." Watch what else Mariah has to say about being on Idol and how she "didn't sign up" for it to become a drama-fueled "reality show" in the video below.
.