Mark Andrew has officially joined the American Idol 2015 Top 24 singers following the Season 14 Showcase Week round.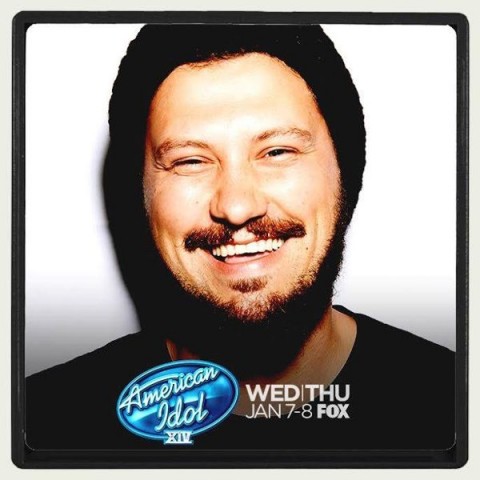 Mark Andrew Pudas: The Voice 2012, Website, Facebook, Fan Page
Twitter, YouTube – Photo: FOX
No, that isn't Idol's Casey Abrams in disguise, it's actually The Voice contestant Mark Andrews going for a second round attempt at success on American Idol 2015. Mark attended the Minnesota auditions for Season 14 where he earned a ticket to Hollywood, but just how far does Mark go on American Idol? It's hard to be sure.
Some spoilers list, like the ones from our trusted source TIP, have Mark being eliminated between Hollywood and the Top 24 stage. Meanwhile others are reporting he's actually made it through while Cody Fry has been cut.
Mark Andrew is a landscaper who wants to pursue his musical dreams and Idol just might be the place for him to do it.
In the audition preview clip below from FOX we get to meet Mark, but we won't see his actual performance until later this week.
There's more music from Mark through his Facebook page. He's got some pretty good stuff in there, but hey, if he's going to Hollywood and possibly beyond then he better, right?
Mark Andrew performs during American Idol 2015 Showcase Week
Mark Andrew's thoughts on his House of Blues performance
"I kind of felt like I was more in my wheelhouse a little bit, being in front of a crowd, because that's kind of what I'm used to. But I don't know, it's so intimidating being in this competition, you know, like there's no way to get rid of your nerves. I don't think anyone here is that comfortable. But you just got to get up there and give it your best and that's all I tried to do, but I mean, what a legendary place and it was, you know, it was surreal just looking out and you know, the crowd's there, the judges are up on their seats and everything. It was fantastic."