From the moment future American Idol winner Caleb Johnson first auditioned for season 13, he was already being compared to classic rock n' roll idol Meat Loaf. There is no question the two do bear somewhat of a resemblance, especially when they are up on stage belting out hardcore rock.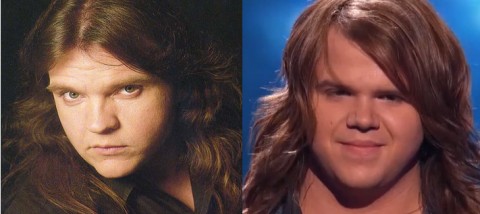 Despite numerous and endless fan requests for Caleb to sing Meat Loaf on American Idol 2014, he never actually did. We don't know if that's because the show wasn't cleared to use Meat Loaf songs, or Caleb doesn't actually like Meat Loaf, or he just didn't want that comparison between him and the classic rocker to get too out of hand.
Regardless, we were delighted to see Meat Loaf himself own up to the resemblance between the two by posting a personal Facebook message of congrats to Caleb for winning American Idol 2014.
"Some of you guys are funny," Meat Loaf said of the joking messages he received for being the new American Idol winner. "I've had a lot of congratulations messages and tweets for MY American Idol win!!!"
"But jokes aside, let me take a second to really congratulate Caleb Johnson," Meat Loaf said. "It's great to see him tearing it up and putting some real rock n roll back on prime time TV! Congratulations Caleb, GOOD LUCK and don't you ever stop rockin' !!!"
We love that Meat Loaf reached out to offer his congratulations to Caleb after a season of the two of them being compared so often. We only wish that some day, some way, we really will get to hear Caleb sing "Paradise by the Dashboard Light" or "I'd Do Anything For Love." Please Caleb? Come on!