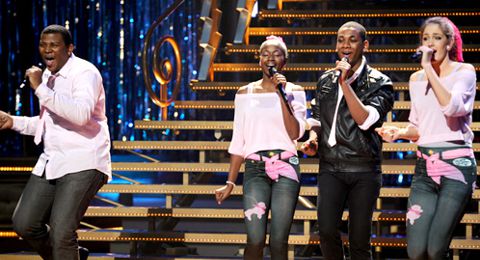 The American Idol spoilers continue with a profile on Curtis Finch Jr, a 24 year old singer from St. Louis, Missouri. And yes, Curtis is yet another familiar face on the list of rumored Top 40 Hopefuls for American Idol 2013.
On the last season of Idol we saw Curtis Finch Jr make it past Hollywood Week and on to the Las Vegas Rounds where he was cut. Since he's been through the process before we have his "Road to Hollywood" video available from Idol and you can watch that below. You might also notice a few familiar faces in the image above. Looks like Curtis was grouped with strong singers who became finalists last year.
Curtis draws a lot of inspiration from Idol winner Fantasia and was moved to audition after seeing her success on the show. He believes part of his unique voice comes from the occasional falsetto he throws in with his usual baritone singing.
Check out Curtis' Idol interview and a few of his performances below then see if you think he has what it takes to become a finalist on American Idol Season 12.
Video – Curtis Finch Jr sings "More Than Anything"