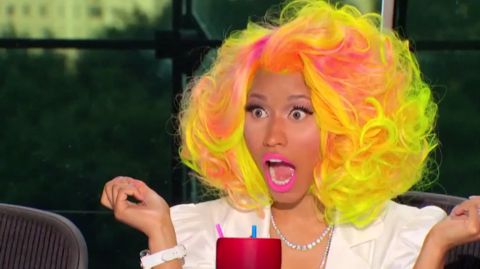 From the moment Nicki Minaj was announced as a new judge for American Idol 2013 the viewer response has been strong. Negatively strong. Most posts we put on our Idol Facebook page (be sure to join us there!), even those having nothing to do with Minaj, have earned a response along the lines of "I won't watch this season due to Nicki" or "Get rid of Minaj!" In fact, at the time of publishing the top three FB posts had responses all declaring they wouldn't watch the show because of her. So it's worth asking, will Nicki Minaj ruin American Idol?
Last week FOX allowed a preview glimpse of the first hour of this week's two-night premiere event as well as the TCA panel with the new judges. This would be viewers' and critics' first chance to watch Mariah Carey, Keith Urban, and the "dreaded" Nicki Minaj in action as judges. The result? Surprisingly positive.
Andy Dehnart at Reality Blurred wrote this about Minaj on Idol:
The three new American Idol judges faced TV critics this morning along with the one old judge, and Nicki Minaj stood out, surprising me and other critics with her on-point, even smart comments about judging a reality competition. Really.

For example: "I don't feel the need to send a person through just because of a great story or because there's something going on that may make people cry," Nicki said. "I feel like even the great singers have stories that may make us cry, but that shouldn't change our decision because it's kind of unfair to the ones who really are great."
Rickey over at Rickey.org praised Nicki, saying:
"I have to say, Nicki Minaj is the best judge this show has ever had since Simon Cowell. She was amazing. She was funny. She threw shade at Mariah Carey. The audience loved her. She was the most popular judge of the panel.

I think American Idol just reinvented itself in Nicki's image. I'm going to rename myself Rickey Minaj. I loved her!"
There's even more praise and positive feedback for Nicki Minaj over at MJ's:
Nicki Minaj is going to definitely be the break out star. She's not only opinionated, but a total chatterbox. And with her quirky style, crazy outfits, and random ways, it's hard to pay attention to anybody else.

No wonder Mariah is a little miffed. Nicki is CONSTANTLY pulling focus.
Now I'll admit that Nicki wouldn't have been my first choice as a new judge, but with such positive praise for her role in Season 12 I'm keeping an open mind and am very anxious to see how she does on American Idol 2013.
Are you willing to give Nicki Minaj a try as a new American Idol judge? Vote below:
Video – American Idol Season 12 Promo 'Nicki Minaj is in the House!'