Whether or not MK Nobilette will be the one who got voted off American Idol tonight, she'll always have a permanent reminder of her time as a Top 11 finalist. This past week, MK decided to ink herself with a brand new tattoo in American Idol colors.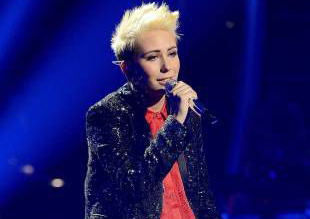 MK Nobilette retweeted a Twitter post from House of Ink about her visit to the world-famous tattoo shop in Venice Beach, CA. It only seems fitting that MK should choose the shop for her tattoo, considering the location actually stars in a reality TV series of it's own. House of Ink is featured in the Oxygen series Tattoos After Dark.
The sparkling diamond of MK Nobilette's tattoo is kind of her personal totem symbol, but she had it inked in very American Idol colors. She had the large diamond in American Idol blue tattooed on the inside of her right arm. We think it looks fab!
(Click the pics for bigger versions or to scroll through.)
This isn't MK's only tattoo, of course. As you can see in one of the photos above, she has plenty of other ink already! We just hope that her new tattoo will bring back the fond memories of being on American Idol 2014… and not ones of her getting eliminated shortly after going under the needle!