American Idol Top 24 contestant Olivia Rox lived up to her name on Wednesday night with an absolutely rocking performance of "Confident" by Demi Lovato. She deserved the 'sweet spot' of going last for the evening with one of our favorite performances from her so far in season 15!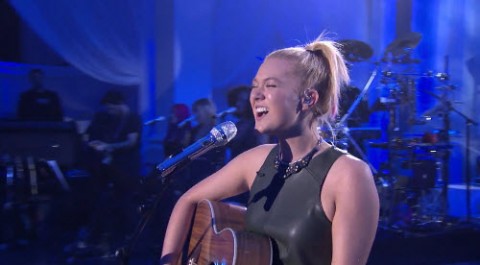 Olivia looked like a rock star in a killer grey leather two-piece outfit, and commanded the audience and the cameras with her powerful vocals. Harry Connick Jr. said this was the kind of music Olivia should be doing and she was really strong. Jennifer Lopez told Olivia said her voice was great and she just needs to channel her inner rocker girl even more. Keith Urban said Olivia has an "amazing gift" and even gave her a standing ovation!
She's confident AND talented! @oliviarox just SLAYED that @ddlovato jam! #IdolTop24https://t.co/JcmZRGgYom

— American Idol (@AmericanIdol) February 18, 2016
Check out the Olivia Rox profile page for more information on this dedicated young singer. Can't wait to find out if she made it through to the next round of the competition? Take a sneak peek ahead in the season on our American Idol spoilers page!