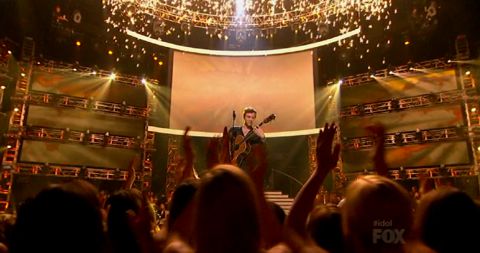 Update: FOX announces Phillips will no longer be performing on the New Year's special due to a schedule conflict.
Phillip Phillips is moving up in the world! The latest American Idol winner is about to ring in 2013 on FOX when he hits the stage to perform alongside Lifehouse and Carmen Electra. Yeah, I don't know about the Carmen part either, but I'm guessing Colton Dixon is sooo jealous right now that Phillip will out there with Lifehouse.
FOX's press info didn't mention which song Phillips would be performing, but come on, he's sold over 2 million singles of his "Home" performance so I think it's safe to expect that one and probably a few more off his debut album "The World From The Side Of The Moon."
Will you tune in to catch Phillip Phillips on FOX's New Year's special or will American Idol host Ryan Seacrest pull you away to his special instead?