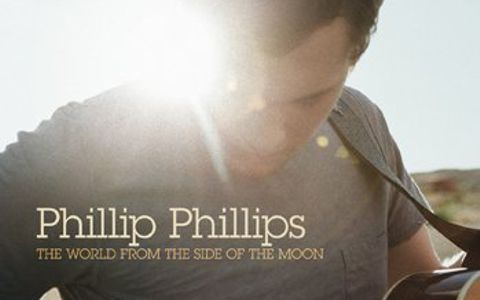 American Idol winner Phillip Phillips is just weeks away from releasing his debut album, The World From The Side of The Moon, on Monday, November 19th. Luckily for fans that can't wait that long Yahoo! Music is sharing nearly 12 minutes of clips from that new album and so far things sound great for the latest Idol winner.
Y! Music also had a chance to sit down and discuss with Phillip a lot of interesting details about the new album. Phillip revealed he had just three weeks to record the album once the summer tour ended and worked very long days to get it done. "At first it was going to be coming out in December, then February, and then [the label] came back and said they wanted to get it out by November. And I was like, 'Aw, crap!' I have no idea how we did it. A lot of hours. We were in the studio for at least 13, 14, 15 hours a day, just getting work done."
Luckily Phillip's health has not been an issue. He explained he's been feeling great and the issues from last season didn't slow him down during the rush of getting the album put together.
Another blessing for Phillip was his ability to work closely with Jimmy Iovine and focus with just one producer, Greg Wattenberg. Many past Idol winners have worked with a stack of different producers which can sometimes lead to a disconnected feel across an album. On top of all that you'll notice Phillips name next to nearly every song on the album in the track list below. Only three songs from The World From The Side of The Moon were written by other artists which helps to give an even more consistent feel to Phillips' debut album.
The World From The Side of The Moon – Track List
Man On The Moon (written by Phillip Phillips)
Home (Greg Holden, Drew Pearson)
Gone Gone Gone (Derek Fuhrmann, Todd Clark, Gregg Wattenberg)
Hold On (Phillip Phillips)
Tell Me A Story (Phillip Phillips, David Ryan Harris)
Get Up Get Down (Phillip Phillips, Gregg Wattenberg, Derek Fuhrmann)
Where We Came From (Phillip Phillips, Jon Green)
Drive Me (Phillip Phillips, Ben Neil)
Wanted Is Love (Phillip Phillips)
Can't Go Wrong (Phillip Phillips, Greg Holden, Drew Pearson)
Fool's Dance (Phillip Phillips)
So Easy (Stephen Wrabel, Peter Amato, Pete Salis)
Now it's your turn to decide what you think of Phillip Phillips' post American Idol debut album. Watch the video below to hear samples from Phillips' and then share your thoughts as we wait for its release.
For more on Phillip Phillips' upcoming album release you can check out his interview with Clever Music.
Source: Y!Music