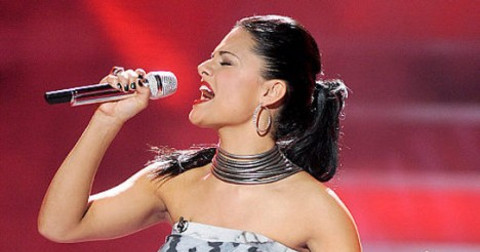 We knew Pia Toscano was going to act fast once she was eliminated from the 2011 season of American Idol back in March, but we just weren't sure how soon it'd be. E! News says that time is now and it won't be long until we hear singles from her:
Sources tell E! News that former American Idol contestant Pia Toscano will start recording her debut album as early as next week. "She's set to start on Monday and we'll see what works for her," an insider tells us.

We're hearing that Pia's first duty will be to start recording possible singles to release after the Idol season ends.

Artists she will most likely work with under 19 Management include Idol producers Rodney Jerkins and Rock Mafia (Tim James and Antonina Armato).
Honestly, I'm kind of surprised it'll be that late after all the brouhaha over whether or not she'd even be allowed to release before the season of American Idol was over. Probably still time for Pia to release before the winner gets a chance.
So the question remains: is there enough interest in a Pia Toscano album or have the flames gone out since she was cut?
And while we're on the topic of Pia Toscano, let me say, no, I do not believe the rumor that she's going to be paid $100,000 to perform one night at a private event. Are you kidding me? I'm not even going to link to the "story" because they cite zero references other than "our sources" and it sounds completely bogus.
I can make stuff up too. Try this: Pia Toscano is going to perform a private concert at my home and pay me one million dollars to do it. Woah! See how easy that was?