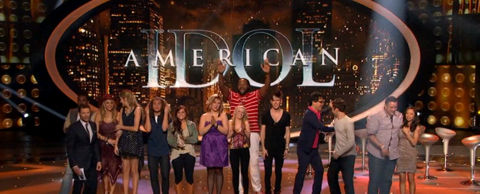 I could spend all day ranking the American Idol 2012 Top 13, but it's way more interesting to listen to the thoughts of thousands of readers rather than just mine. So instead again this American Idol season we'll be looking at the weekly rise and fall of the various Idol Hopefuls according to how you vote for who was the best. This week we'll be starting with a simple view of which American Idol 2012 singer is the most popular based on your votes.
#8 – Shannon Magrane, Jermaine Jones, and Erika Van Pelt. There's a three-way tie for last place in our poll and two previously eliminated singers shouldn't be a surprise, but Shannon as well? I'm surprised she's not getting more of the youth vote as she's one of the youngest this season. Jermaine has a unique voice in this contest and won his spot as a finalist, but can he maintain he underdog support? Erika will need to convince America she should have been one of the Top 10 finalists all along or back out she goes again.
#7 – Joshua Ledet and Elise Testone. Tied at seventh, Joshua and Elise looked to be solid locks for the finalists row last week. I'm surprised to see both of them this far back in the ranks, but as the live shows continue anything can happen.
#6 – Skylar Laine and DeAndre Brackensick. Tied for sixth place, Skylar Laine and DeAndre Brackensick continue to hold a middle of the road position. DeAndre has already been eliminated once by America, but thanks to the judges he got a second chance. Can Skylar be the more raucous, outgoing version of Lauren Alaina? After last week's energetic performance it looks very possible.
#5 – Hollie Cavanagh. Hollie is the last female performer we'll see for the next several rankings, so she better work to hold this position for the ladies. Steven Tyler suggested she let her hair down, hopefully he meant metaphorically as well as literally. Hollie looks poised to be a contender for American Idol season 11, at least in the girls category.
#4 – Colton Dixon. Back for another chance at the title Colton Dixon should go far this season. Jimmy Iovine recommended Colton to pull back on the throttle at the start, but clearly the audience likes what they've seen so far.
#3 – Heejun Han and Jeremy Rosado. Tied for third place are two of the more emotional guys. Heejun has his emotions of humor and Jeremy is often on the verge of tears and in need of a hug. Having been eliminated by the viewers once already it'll be interesting to see how long Jeremy can hang on after his wildcard save by Jennifer Lopez. Heejun's following of fans should keep the wise-cracking singer in the running for a good bit longer.
#2 – Phillip Phillps. Phillip is the guys' counterpart to Jessica Sanchez. He's got a healthy lead over the other male singers though not nearly as wide as Jessica. He's easily the girls' biggest threat to a win this season. He's a guy, plays a guitar, and has a bit of the scruff to him. If an evil scientist created a mash-up of David Cook, Kris Allen, and Lee DeWyze then you'd have Phillip Phillips. He's been genetically engineered to win this season.
#1 – Jessica Sanchez. Jessica held 40% of the Top 12 Girls vote last week so it's no surprise to see her leading again here in the mixed company of guys and girls. Ms. Sanchez currently stands as the one to beat heading in to the American Idol finalists stage. Will she be the one to break the multi-year dry spell for a female winner?
If you haven't voted yet in the American Idol 2012 Top 13 popularity poll then jump over there and let your choice be known. Otherwise, what do you think of the voters' choices so far? Are the singers where they should be?