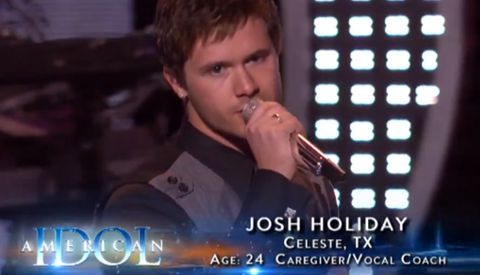 Before the American Idol judges could make their final decision on the Top 20 guys last night they needed a little Idol bloodshed in the form of a sing-off.
Judge Nicki Minaj called out Adam Sanders first who had trouble regaining his audition glory and leaned more toward his difficult Hollywood Week solo performance. Throughout his rendition of "Taking Chances" none of the judges looked impressed or moved. Not a good sign for Sanders.
Next up was Josh Holiday who aspires to be a Gospel music artist. His vocals and presentation were hard for Adam to match as he earned smiles and claps from the judges with "Georgia On My Mind." As if that wasn't enough, Josh managed to actually tear open his pants but kept his composure and hopefully his spot in the competition.
When it came time for the judges to confirm the American Idol Top 40 for 2013 it was revealed that Josh had indeed beat out Adam Sanders. Watch the performance below and see if you agree with Nicki, Randy, Keith, and Mariah on their decision.