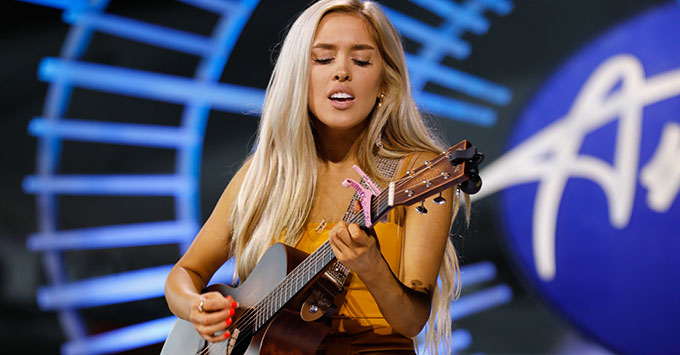 American Idol 2019 kicked off Sunday night, and this season means business. The search for the next American Idol took off strong, giving us a whole new batch of singers that we are sure to see go all the way to the live shows this season.
Here are some of the standouts from the American Idol premiere:
Walker Burroughs, "Love Like This." The 20-year-old from Birmingham, Alabama, was the first up to audition for the season and it was a great way to start. His audition behind the piano was tender and effortless and he got a very easy ticket to Hollywood. Katy Perry even called him Top 10 material.
Johanna Jones, "I'm Not The Only One." The 23-year-old fast food chef from Las Vegas definitely has some star quality to her. Her performances was sweet and controlled and she was a complete natural. The judges told her she's the complete package, and that's exactly what I was thinking. She too got an easy ticket to Hollywood.
Kai The Singer, "Living Out Loud," and "My Girl." The 19-year-old from South Carolina has had a bit of a rough life and has a touching story, so I was surprised when her first song didn't work out. The judges let her sing a second song on the piano and it wasn't great, but it was better. I don't expect her to make it far beyond Hollywood, but she did get her golden ticket.
Tyler Mitchell, "Whenever You Come Around." The 26-year-old country boy from Louisiana got a "holy crap" from Katy. And I get it. I was pretty surprised that he had such a sweet and tender sound. He does lack charisma, though, so I could see that tripping him up later in the competition. But for now he is a yes and is heading to Hollywood.
Margie Mays. I'm not even going to review this audition. This girl is insane and even though her voice wasn't terrible, I couldn't focus on it. She is going to Hollywood, but don't expect her to go beyond that.
Myra Tran, "One Night Only." When the 19-year-old from Vietnam first appeared on my screen I thought it was going to be a disaster. But when she started singing, my jaw dropped. She has such a range and command. I am honestly confused by this. It was really good. She got three easy yeses and is off to Hollywood.
Uche, "Ain't No Other Man." He grew up singing in the church and has a ton of confidence. I didn't love the audition, but I think he could probably be pretty entertaining with the right production. The judges were a bit reluctant, but he got his ticket to Hollywood.
Laci Kaye Booth, "Mama Tried." Laci is a natural. She was raised by a country singer and it really seems to be in her blood. She has this classic country sound with a modern edge. I think we can expect to see a lot from her this season. And it'll start with Hollywood Week!
Tiffanne Lemay, "The Best Part." She's got a great presence and a good energy about her, but I didn't love her audition. But I think she could probably be coached into something a lot better. The judges weren't 100 percent on her, but they did give her a pass to Hollywood.
Nick Townsend, "Let It Go." Nick has one of the saddest stories ever. And the sadness he has experienced really comes through in his performance. His audition was emotional and even though the vocals weren't perfect, they were believable. I'm not sure he has what it takes to go all the way, but I'm glad he gets the chance. He's off to Hollywood.
What did you think of the first round of American Idol 2019 auditions?
Want to find out if any of these singers made it to the live shows? Check out our American Idol 2019 Top 14 spoilers.