Many American Idol 2016 fans will always remember Tristan McIntosh from the emotional reunion with her military mother during the season 15 auditions. Tristant was lucky enough to have her mom return from overseas in time to see her daughter audition for the American Idol judges and accompany her to Hollywood Week. We're sure she is extremely proud indeed of how far her very talented daughter has made it in the competition!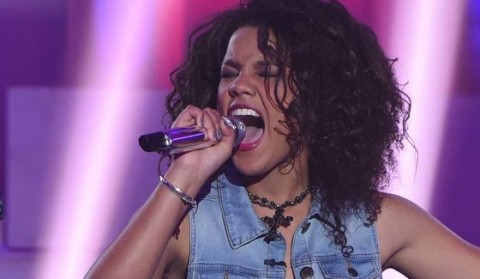 Tristan McIntosh is no stranger to talent competitions. Before competing on American Idol 2016, she was a standby for America's Got Talent, and actually made it through several rounds of The X Factor USA. She was also a contestant in the Miss Tennessee USA Pageant and won several local talent competitions back home in Clarksville. (Read more on Tristan's backstory on her Top 24 profile page.)
Audition: 15-year-old Tristan's audition may be most memorable for the tearful reunion with her mother, but we also have to remember that she also gave a really terrific performance. Her rendition of "Why Baby Why" by Mickey Guyton was beautiful, and the American Idol judges were obviously impressed with this young lady's natural gifts. Jennifer Lopez told Tristan she gave her the "goosies," which is one of J-Lo's biggest compliments. She even told Tristan she reminded her of Alicia Keys! Keith and Harry also thought Tristan had so much talent and so many things going for her. They just couldn't pass up giving Tristan a Golden Ticket to Hollywood!
Hollywood Week Lines of 8 Solos: For her first Hollywood Week solo, Tristan gave a pretty if somewhat nervous performance of "Something In The Water" by American Idol winner Carrie Underwood. She was a tad bit shaky at the beginning, but finished very strong. A little bit of nerves certainly didn't hide her tremendous talent, and the judges moved her through to the Group Round.
Hollywood Week Group Round: In the Group Round, we think Tristan McIntosh really stood out even in a very strong team. Keith Urban even called Tristan out specifically and told her she really sings beautifully and "really shined" during the performance. It certainly was not a difficult choice for the celebrity panel to pick Tristan to go through to the next phase of the competition.
Hollywood Week Solo Round: Tristan dedicated her Hollywood Week solo to her mom, and we were certainly moved by her lovely performance of "What Hurts The Most" by Rascal Flatts. If her mom had tears in her eyes in the audience, so did we watching Tristan on the stage. The American Idol judges were also touched by the performance, prompting Keith Urban to mutter "it's a girl's season, my word" and Harry Connick Jr. to mumble "mmhmmm" in agreement. So there was no surprise in learning Tristan would be going to the Showcase Round.
Showcase Round & Final Judgement: For her last performance for the judges before the selection of the Top 24, Tristan chose "Stronger" by Faith Hill to show off her amazing vocals. During The Green Mile eliminations, Tristan told the judges that she felt like she "actually performed for the first time in my life" during the song. Keith Urban told Tristan he thought it was a really good performance from her as well. Although they teased her by talking about how young she is and how sometimes a no is actually a good thing, they of course gave her a yes vote to the Top 24!
Top 24 Semi-Finals Solo Round: Every performance so far, Tristan has seemed to just get better and better, but she wavered a bit in her first outing as a Top 24 contestant. For her solo performance, Tristan showed off yet another side of herself with a bit of rocker girl edge on "Good Girl," another Carrie Underwood song. Jennifer Lopez said Tristan might have been thinking a bit too much in the beginning, but by the end she was feeling it and she should concentrate on that. Harry Connick Jr. was happy to hear Tristan do something different, but he thought it was just an 'okay' performance. Keith Urban didn't like the song choice, but thought she killed everything else.
Top 24 Semi-Finals Duet Round: For her Top 24 duet performance, Tristan was paired up with country singer and American Idol alum Kellie Pickler. Harry thought it was "pretty darn good" but told Tristan to be careful not to rush and stay "in the pocket." Keith Urban thought it was a bit of a tricky harmony for Tristan and a "little shaky pitch wise." J-Lo told Tristan they've had their eye on her from the beginning as "one of the very special ones" with such an amazing voice, but being on stage with Kellie did show off her inexperience.
Will Tristan McIntosh make it through the next cut to be part of the American Idol 2016 Top 10? We'll bring you all the latest American Idol spoilers on the next round of the competition as they happen!