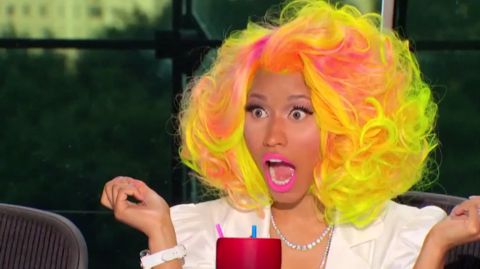 Were you wondering why was Nicki Minaj late tonight on American Idol 2013? Well get in line because so were the millions of other viewers tonight and probably a lot of FOX production behind the scenes as the show kicked off tonight with one empty chair.
From the very start of tonight's Top 10 performance show it was clear that Nicki Minaj was no where to be seen. Host Ryan Seacrest joked with judges Keith Urban and Randy Jackson that one of them emptied the gas from her tank and gave her the wrong directions to the show. Turns out it wasn't anything like that.
Nicki Minaj was late to tonight's American Idol 2013 because of traffic, the polarizing judge announced on Twitter:
Stuck in traffic *sighs*

— Nicki Minaj (@NICKIMINAJ) March 14, 2013
The tardy singer arrived wearing a black hoodie, far from her usual styling, and likely due to being too late for hair & makeup to do their magic.
Of course there's always the chance that this was just manufactured drama and Minaj was hiding back stage all that time. What do you think was going on tonight on American Idol 2013?