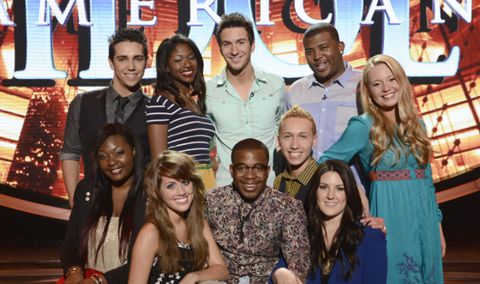 Tonight the American Idol 2013 competition gets real. The Season 12 Top 10 finalists are singing for America's votes and for a chance to go all the way to the finale.
The theme this week is Songs of Past Idols. So we'll be hearing songs by past winner that were either performed on American Idol or recorded following their winning seasons. And as always, I'll review each performance and assign the letter grade I think each deserves.
The American Idol 2013 Top 10 Performances 
Curtis Finch Jr., I Believe, (performed by Fantasia, Season 3). First of all, let me take a bow for picking this song for Curits in my song suggestions earlier this week. Haha! As for the performance, it was as good as I imagined it would be if he covered it (mostly). He took it to church, of course, and did a little too many runs/tricks or whatever, but it was a solid performance. Aside from that note that was supposed to be big and wasn't. Eh. Grade: B
Janelle Arthur, Montgomery Gentry's Gone (performed by Scotty McCreery, Season 10). Song choice was great. But for her, I'm not sure. It seemed like she wasn't able to really keep up with it. She looks great and has great stage presence. But I wasn't feeling the vocal all the way through. Grade: B-
Devin Velez, Temporary Home by Carrie Underwood. I'm pretty surprised by this song choice, but it was a great performance. Devin's version was sweet and tender. He did all the right things technically. The song was a bit sleepy, for a singing show, but that's the only criticism I can dig up. Grade: B+
Angie Miller, Celine Dion's I Surrender (performed by Kelly Clarkson, Season 1). I had a feeling she'd cover something Kelly had performed or recorded (since that's who Idol thinks they've found with Angie). I didn't expect to be this semi-obscure song, though. It's always a risk to do a song that the target audience don't know. But Angie has done an original song and it never hurt her. All that being said, the performance was perfectly fine. I was bored, but I couldn't find anything wrong with the performance. Grade: B+
Random Stupid Nicki Comment: "I like the way you walk in heels," to Angie. 
Paul Jolley, Lonestar's Amazed (performed by Scotty McCreery, Season 10). I think with this song I finally figured out what kind of artists Paul is. I was so confused by him before tonight that I couldn't even make a song suggestion for him. I liked this. I could tell he was holding back though because of the criticism he's been getting. Which is really just arbitrary B.S. He doesn't sing like he's on Broadway, he's just an … animated person. I thought it was very solid. I liked it. Grade: B+
Candice Glover, Ben E. King/Shirley Bassey's I, Who Have Nothing (performed by Jordin Sparks,  Season 6). Oh, yes, that's two points for me! I picked this song for Candice also! There's was one slight difference between her version and Jordin's version. And that's that it was 100 percent better! And Jordin's was good. So Candice's was FANTASTIC. It was more emotional, connected and POWERFUL. Amazing. Loved it. Grade: A+
Lazaro Arbos, Breakaway by Kelly Clarkson. Something was off with this performance. Maybe he was nervous. But I couldn't really hear him at times and he was flat. And on top of that, it was boring. He took it no where that it hasn't already been. And coming after Candice? Yeah, not a good place to be. Oh, Idol, could you be any more calculated. Grade: C-
Kree Harrison, Roy Orbison's Crying (Performed by Carrie Underwood, Season 4). I'll say it again, Kree is the superior country singer this season. I really hope Janelle doesn't get all the votes, because Kree is amazingly talented. This performance was very Carrie sound-alike, but I didn't care. Kree nailed it vocally. Grade: A-
 Random Stupid Nicki Comment #2: She goes on and on and on and on about waffles. 
Burnell Taylor, Westlife's Flying Without Wings (preformed by Ruben Studdard, season 2). Ugh. WHY? WHY sing this cheesy song? Ugh. And I really like Burnell, too. What a bad song choice. Luckily, his voice, tone and singing style are still remarkable. He can do no wrong, really. Grade: B+ (And A if he had picked another song)
Amber Holcomb, A Moment Like This by Kelly Clarkson. This is a bold choice. The first-ever American Idol coronation song. I thought the performance was good. Not amazing, but good. I certainly don't get why this was in the pimp spot and Candice wasn't. The more I listen, the more I think it's kind of boring. She did nothing new with the song and it can't compare to Kelly. But vocally, it was good. Grade: B+
Who were your favorites tonight?