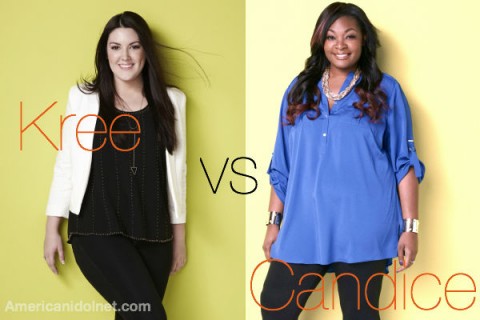 It's Kree Harrison or Candice Glover. One of them will be crowned the next American Idol this Thursday when American Idol 2013 ends its tumultuous 11th season.
And after this kind of crazy season, it could really go either way. I think for the first time in American Idol history, the decision could come down to who has the best songs and performances this week. Usually, the winner is already so far ahead of his or her (who am I kidding? his) opponents, it's been easier to guess who will win. That's not the case this season. So I'm just going to go with my gut.
Who Is Going To Win American Idol 2013?
Kree Harrison. I think based on American Idol's previous voting patterns and the fact that a large portion of American Idol fans are county music fans, Kree will win. Also, if you look back at the results records, Kree and Candice have both been in the bottom once, but Kree has been in the top one two more times than Candice. So as long as Kree has the right performances this week and a good coronation song, she will win.
Who Should Win American Idol 2013?
Candice Glover. I think Candice has had an overall stronger showing and is more versatile than Kree. If Candice performs "I Who Have Nothing" or "Somewhere" (even though that one might be too soon) as her sing-it-again song, and has a good coronation song, then she COULD be pushed ahead of Kree. And I think this should happen. I want Candice to win. For any of our readers who have found my unbias/bias flip-flopping confusing, let me spell it out. I think Candice should win.
Who do you think will win/should win? They can be two different thoughts, just like my own above.