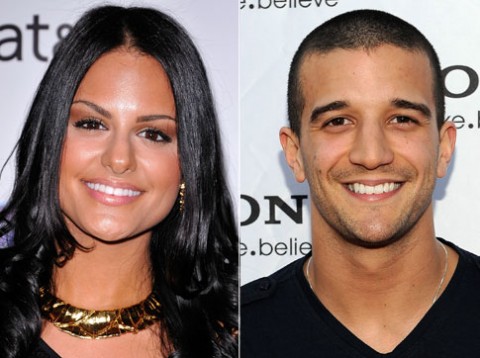 Eliminated American Idol 2011 contestant Pia Toscano is going to be just fine.  According to multiple sources, Pia is in talks with Interscope Records about signing a contract however this has not yet been confirmed.  Pia did say in a recent interview, "I'm looking forward to any opportunities that are to come but I'm really just focused on the [upcoming 'Idol'] tour right now and getting some much needed rest that I haven't gotten."  She went on to list several producers she would like to work with including Rodney Jenkins, Harvey Mason Jr. and Ron Fair. 
Personally I think a deal has been reached for the best technical singer we had in the competition and I'm hoping we will hear an announcement soon.  She has mentioned looking up to Alicia Keyes and Christina Aguilera and would love to collaborate with either them and even sing a duet with Idol's Jennifer Lopez. 
In other Pia news, she has been seen about Los Angeles with Dancing With Stars Pro, Mark Ballas.  When questioned by reporters on how they met, Mark wasn't very forthcoming and just said "around" but since DWTS and American Idol are filmed right next door to each other it isn't too hard to think they could have just bumped into each other.  Mark went on to say about his new friend, "She is an amazing talent and this is probably going to turn out good for her. I think she's going to be all right. There's always light at the end of the tunnel and she's got a ridiculously amazing voice and I think she'll be fine."
I agree with Mark, Pia has a gift and getting voted off Idol could be the best thing that's ever happened to her.  We'll have to wait and see. What do you think?
Update: Interscope might want to get a Pia single or even album out there as fast as possible, but according to PopEater, there's no chance that American Idol producers will let that happen.
"No way do the producers want a contestant who was kicked off having a hit record when the winner hasn't even been announced yet," another 'Idol' insider tells me. "The first hit song has always been from the winner and this year will be no different."
That makes sense to me. It would definitely undercut the eventual winner to have Pia put out a song at this point. Suddenly this competition would turn in to American "who can get to the Top 13 and then get eliminated first so he/she can put out a single" Idol. There's just no way FOX can fit all that into a title screen.
Meanwhile, you can check out Pia's appearance from this morning on The Today Show in the video below where she deflects questions about a potential contract and even whether or not she has a favorite in the remaining Top 8.