Tonight's results show will determine who will be performing for your American Idol 2011 finale and who will fall just short of his or her big chance. I would say that after last night's performances that it'd be a no-brainer on who will make the cut, but I think the obvious results expectations should be thrown out the window after last week's surprise.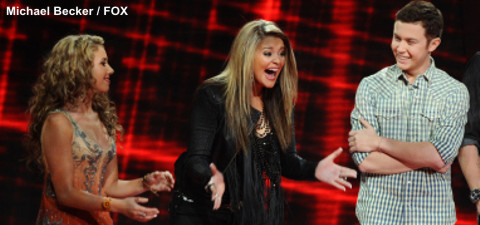 Between what I'm seeing in our poll, my impressions of last night's performances, and Branden's prediction that we'll see the country-vote divvied up I'm expecting Lauren to be cut lose and give us a finale showdown between Haley and Scotty. But again, after lots of surprise results this season I'm not going to hold my breath.
Along with the results we're going to get a few guest performances tonight. I had never heard of Il Volo before (think Jonas Brothers singing Italian), but their video features lots of Beats headphones uselessly wrapped around their necks so I'm guessing Jimmy Iovine is involved here. Their music video is hilariously cheesy (you look at the ground, you look right at the camera, and you look up and pretend to be amazed by a blue sky), or at least the first minute is since I couldn't get past that, so you can watch it or listen to the preview below.
Il Volo – 'O Sole Mio:

Then we'll also get a performance of "Right There" by Nicole Scherzinger and 50 Cent. I'm not sure which performance will be worse but this duo looks ready to take on the Italian trio with lyrics like "me like the way… me like the way…" apparently inspired by Rebecca Black ("we so excited"). Rest assured that there are more Beats headphones featured in this video too so definitely more Jimmy-ProductPlacement-Iovine at work. Give it a watch or listen in below.
Nicole Scherzinger – Right There ft. 50 Cent:

Looks like I'll just be watching for the American Idol results tonight, but while we wait for the envelope be sure to join other Idol fans on our Facebook page and see what everyone is saying. Don't forget to vote for your favorite in our poll below.