Was it just a week ago that I was ready to call this season for James Durbin? Well hold that thought because this week's rankings could be subtitled "House of the Rising Haley" after her stock shot up in our polls. The former middle-of-the-pack singer surpassed Durbin and looks ready to challenge Scotty for the top spot.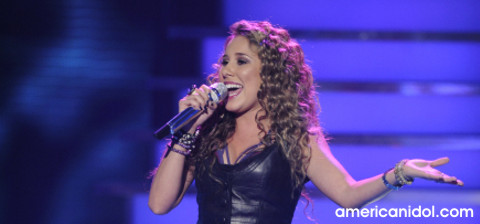 Jennifer Lopez may have thought it was a terrible idea to sing a song no one has ever heard (ironically JLo performed a song from her album the next night…) but coupling Lady Gaga and The Animals last week on American Idol 2011 was exactly what it took for Haley Reinhart for to go up 17 points to 28% in our poll rankings. That's the single greatest jump any singer has earned all season. While Haley's climb was impressive she managed to fall short of first place by just one point leaving Scotty in control again this week with 29% of the vote.
On the other side of that coin was James Durbin who fell 19 points down to 27% from last week's dominating position of 46%. Perhaps James needs to remember not to rest on his laurels like he did with his "Now" song that felt more like a victory lap effort than an honest to goodness "in it to win it" performance.
Then there's Lauren who stands alone at the bottom of the heap. Her danger buffer, Jacob Lusk, is now gone after three straight weeks of 4% of the vote. Haley proved that anyone can get themselves out of the ditch, but Lauren will have to work hard this week to keep from being eliminated.
Check out the rankings below and see how your favorite is doing. Keep in mind that these rankings are based solely on your votes in our weekly site polls.
American Idol 2011 Top 4 Performance Poll Rankings
Scotty McCreery – 29% (up from 22% previous week)
Haley Reinhart – 28% (up from 11% previous week)
James Durbin – 27% (down from 46% previous week)
Lauren Alaina – 9% (up from 7% previous week)
How is your favorite singer doing in the polls? Better keep voting!
Also, don't forget our Idol giveaway. A new day means a new chance to enter!
click image to enlarge