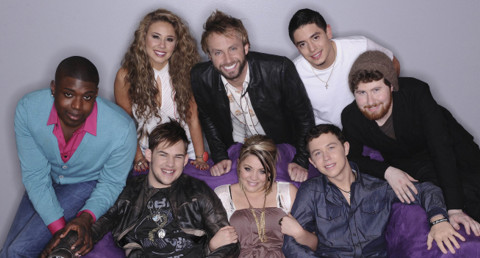 Is it possible for the Top 8 Week to be any more exciting than American Idol's Top 9? It's gonna be tough, but I can't wait to see what happens next. After Pia Toscano's shocker elimination on Thursday the Idolverse has been alive with conspiracies and allegations, but there's no turning back so let's see what's coming up next as we press on toward the season finale.
The 2011 Top 8 finalists will return to the stage on Wednesday and perform songs from cinema. Well that's pretty wide open! Then on Thursday night, along with the results reveal, we'll get performances from Rihanna and Kelly Clarkson dueting "Don't You Wanna Stay" with Jason Aldean.
Also on Wednesday this week (April 13th) there will be a special benefit concert for Juliana Ramos, fiancee of former Idol contestant Chris Medina, at 3359 W 115th Street in Merrionette Park, Illinois (Map). The concert will feature 5 of the top 40 Idol contestants: Caleb Hawley, Carson Higgins, Jerome Bell, Ta-Tynisa Wilson, and ChrisMedina. Each former Idol hopeful will be performing a few original songs along with some group numbers. Doors open at 5PM with former contestants performing after 8PM.
In other reality TV news, So You Think You Can Dance just wrapped up their first day on the new season which premieres May 26th, the day after the Idol finale.
Let's great ready for another awesome week on American Idol. Are you ready?