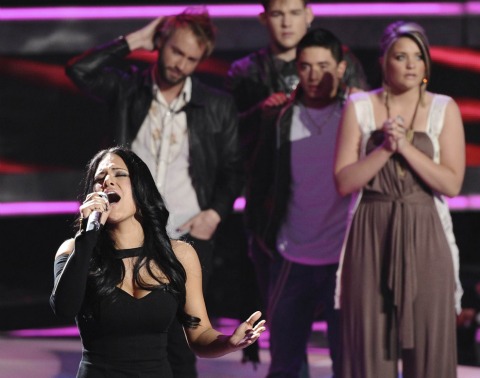 Either American parents need to stop their 13-year-old daughters from voting or "American Idol" producers decided it's time for Pia Toscano to have a recording contract and pulled her from the competition themselves. Because I don't care who you're a fan of, you can't deny that Pia's elimination Thursday night was shocking and unwarranted.
Or maybe it was just that horrible outfit Gwen Stefani made Pia wear.
Something just isn't right. In my Wednesday blog, I did mention that things could get interesting and crazy because Thia and Naima's fans had to throw their votes to someone. But I never thought Pia would be the one to feel the negative effects.
Sigh. If only the judges would'nt have used their save so early. Or if only young girls were a little more picky with the guys they think are hot. I mean is it really that easy for young girls to crush on a guy? The pickings are slim, so I just don't get it. Casey Abrams looks like a dirty frat boy. James Durbin kind of resembles Sloth from "The Goonies." Scotty McCreery looks like the Mad Magazine guy. Jacob Lusk will probably never believe in "getting it on." Sure Paul McDonald and Stefano Langone are commercially good looking, but they've both been in the bottom a couple times so that doesn't add up. So maybe young girls aren't really shallow. Just desperate. (As always, backlash welcome. Let me have it!).
I'm just confused. I guess I'll never understand what happened tonight, so I'll just move on to the episode recap.
I should've known things were going to go wrong when the show started the way it usually does with the terrible group medley. Apparently last week's awesome format was just a big tease one-time thing. Oh well, I did kind of miss Scotty's and Casey's awkwardly terrible dance moves. So that was fun to see again.
Then we get a random visit from Russell Brand. Not sure what that was about. I guess there's some Fox whoring going on. I didn't pay attention.
Ryan finally pulls up Casey Abrams, Stefano Langone and Lauren Alaina. He sends Lauren to safety first, then Casey, leaving Stefano in the Bottom 3. At least I got that prediction right.
Next we get a special treat with Constantine. And by special treat I mean pointless filler. Speaking of pointless filler, we next get a whole segment on Gewn Stefani's TERRIBLE styling from Wednesday night. The more I think about it, the more I think I blame Gwen for Pia's elimination.
More results. Ryan asks Paul McDonald, Scotty McCreery and Pia Toscano to come to the center of the stage. Scotty and Paul are sent to safety and Pia lands in the Bottom 3. I haven't had Pia in the "100 Percent Safe" bracket for a couple weeks so it's not a huge surprise she's in the bottom. I just though she could fall in the bottom one week then her fans would be scared into voting harder and she'd ride the wave to the Top 3 at least.
We get more ridiculous filler of the contestants visiting slime-ball internet "news" service TMZ.
Ryan then calls up James Durbin, Haley Reinhart and Jacob Lusk. James is sent to safety. Then Haley. Haley's performances the past two weeks have really done good things for her. At least America has noticed that.
Iggy Pop performs. Who knows how they talked him into doing a show like "American Idol." Which I'm sure is something Steven Tyler asks himself everyday.
And it's final results time. Jacob, Pia and Stefano. Ryan pulls one of his stupid pranks and makes me think my dream has come true but instead sends Jacob to safety. So then I thought my prediction that Stefano would go home was right. No. Ryan reveals the shocking news that Pia has been eliminated.
Everyone is shocked and rightly so. Next to Chris Daughtry's elimination, this has to be one of the biggest shockers in the show's history.
Next week it's time a guy goes home. It's only the Top 8 and there are seriously only two girls left. That's ridiculous.
What are your thoughts on Pia's elimination?