Back from the brink of a double elimination, American Idol returns tonight with another send off after last night's Rock performance show. There's no doubt that it was a pretty exciting round and tonight's elimination will be tough, but the show must go on so let's get ready for more.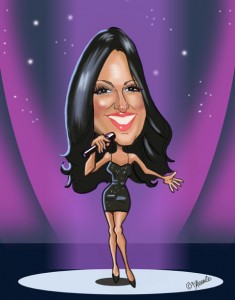 There were a lot of outstanding performances, but who wasn't finally ready to see Pia break out the fast paced, high speed song and totally killed it. Good timing too because artist Dan D'Addario is back with another caricature and sure enough it's Pia Toscano. Check it out!
Be sure to join us on Facebook ahead of the show to see what other American Idol fans are saying.
While we wait to see who got the least votes before sure to share your American Idol predictions on who is going home and then vote in this week's poll below.
Don't forget to join us tonight when we post the big results live at 8PM ET!
Image credit: Dan D'Addario