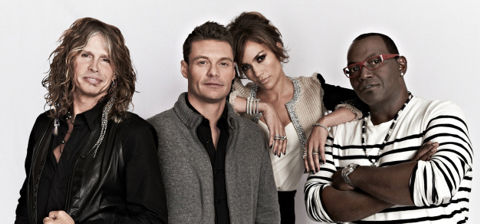 Get ready for more filler! I mean, more American Idol! The decision makers at FOX are now planning to forgo the usual shortening of the American Idol 2012 season when the finalists pool drops below any rational justification for a two-hour performance show in April.
Originally FOX was going to use Idol as a lead-in to their struggling "I Hate My Teenage Daughter" (an endearing title, to be sure) but instead they'll keep that full two hours all to American Idol on Wednesday nights.
"But wait," you might be asking, "how can FOX fill 2-hours with an average of six finalists performing 2-minute songs?" 120 minutes of air time to 12 minutes of performance time is a tough ratio to beat, but we're here to help and have compiled a list of ideas on filling that extra block.
American Idol Net's suggestions for FOX on how to fill 30 mins:
Randy presenting his various lapel pins and showing viewers how they can make their own at home too.
JLo detailing her latest project and why everyone should be very interested even though they're not.
Steven models his favorite blouses and explaining how to pick the best colors to match your hair feathers.
Ryan continues his stand-up routine consisting mostly of self-deprecating, vertically-challenged jokes.
Jimmy tears apart eleven seasons of asinine, pointless, and rarely helpful judges' commentary.
Of course my vote goes for more Jimmy Iovine. He's the best part of the show this season and I'm quickly seeing why he was upset with Heejun Han's joke-making: entertaining the audience is Jimmy's role.
What do you think of FOX's decision to stretch American Idol out? How would you like to see Idol fill all that extra time?
Source: Entertainment Weekly