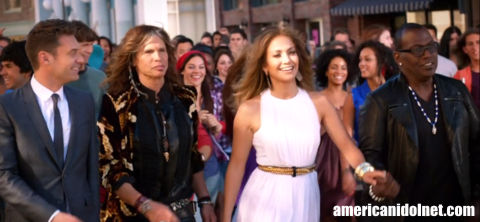 Just six weeks ago FOX announced that American Idol 2012 would premiere on January 22nd. Well it looks like someone realized setting your season premiere at 10PM for your biggest franchise was maybe not the best idea. Instead the premiere date for Idol 2012 has been shifted up a few days and will now appear in back to back nights starting on January 18th. Here's FOX's mini press release:
Welcome AMERICAN IDOL back when its 11th season begins with a two-night premiere Wednesday, Jan. 18 (8:00-10:00 PM ET/PT) and Thursday, Jan. 19 (8:00-9:00 PM ET/PT).

Featuring host Ryan Seacrest and returning judges Randy Jackson, Jennifer Lopez and Steven Tyler, television's No. 1 series continues with a special, extended primetime broadcast Sunday, Jan. 22 (10:00-11:00 PM ET/7:00-8:00 PM PT) following the NFC CHAMPIONSHIP GAME
That's great news. We'll get the audition rounds rolling even earlier than planned now plus they'll still keep an hour episode to run after the game that Sunday.
Are you ready for the new American Idol? Join us on Facebook to get all the news!