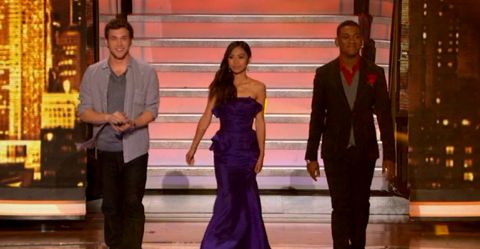 The American Idol 2012 results are set to be announced as Ryan Seacrest picks up the envelope and asks for the lights to be dimmed. One finalist will be sent home. Two finalists will move on to the American Idol finale show next week when the winner will be crowned. No matter who is eliminated tonight all three singers have accomplished a lot by making it this far and have established themselves enough to make a go of it either way.
You'll be able to see all of the American Idol 2012 Top 10 singers again on the summer Idol tour when it heads across the country. Check out the dates and locations for the American Idol 2012 tour.
While we wait for the American Idol results, join us on Facebook & Twitter.
American Idol 2012 Top 3 – Elimination Results:
Congrats, readers! You were right yet again in your predictions.
The following singers are safe and make up your American Idol 2012 Top 2 finale:
Jessica Sanchez
Phillip Phillips
What do you think? Did the right singer get voted off American Idol tonight?
Don't forget that next week's American Idol 2012 schedule will be different from the rest of the season (I'll never agree with FOX doing this each year). On Tuesday, May 22nd we'll get the American Idol finale performance show. Then the next night, Wednesday, May 23rd, the results will be revealed and we'll find out who won American Idol 2012. Stay close by and we'll keep you posted on the latest news!