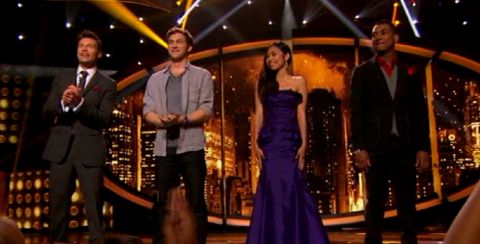 Tonight on American Idol 2012 the season 11 Top 2 singers will be revealed as one last singer will be eliminated and sent home. Either Joshua Ledet, Phillip Phillips, or Jessica Sanchez is about to fall just shy of the big finale event next week. Let's take a look at your American Idol 2012 voting results and what those numbers are predicting for tonight's show. For the past three weeks in a row your votes in our polls have correctly identified the American Idol singer to be eliminated. Will you all continue that streak tonight? We'll soon find out!
Leading this week's poll is the top spot's regular owner, Jessica Sanchez, with 59% of the vote. Steven Tyler called this season for Jessica during last night's Top 3 performance show and many fans seem to agree. What's left to discover is if her official votes turn out as strong as those in our poll as we keep in mind the week she was eliminated despite leading our poll as well. Regardless, I am ready to predict Jessica Sanchez will be safe tonight and move on to the finale.
Plenty of readers have been upset, and I put that mildly, in response to my admittance that our polls are open to a wider range than the official votes. Sure, Jessica has lots of US-based fans. If she didn't then she wouldn't be in the Top 3. But despite being as American born as her competitors, Jessica has picked up a dedicated international support here which is great for her, but I'm trying to rein in expectations should the final results not match what we're seeing here.
Next up we've got Phillip Phillips with 26% of the vote. The judges were less than thrilled with his second performance, but they came back to support him as he closed out the night in the coveted pimp spot. Fitting the profile of the past four season's winners certainly isn't hurting Phillips' chances this season. Even when he fell to the bottom groupings in our polls Phillip has managed to dodge the Grim Reaper which makes me think he's got more fans out there than the make up of the readers here. Phillip Phillips looks to be a lock for next week's finale and if we're being completely honest here, based on the previous streak of WGWG ("White Guy With Guitar") wins, I'd place my chips on his square for the crown.
Bringing up the American Idol 2012 Top 3 rear is Joshua Ledet. Randy called him the best thing "evah!" while JLo thinks he's the best thing in music in the past fifty years. Joshua has clearly done a lot right to make it this far in the season, but with just 14% in our poll I don't see this going well for him. Song choices weren't the best for Joshua, aside from Jimmy's selection, and that's going to hurt him when the lights are dimmed. Joshua Ledet is your prediction for tonight's elimination and I'd have to agree with you all.
We're close to finding out who goes home and who goes on to the American Idol 2012 finale. It'll be a big night no matter how it turns out. Let's see if all of the readers are set to extend their prediction streak to four weeks in a row.
What do you think will happen tonight on American Idol?