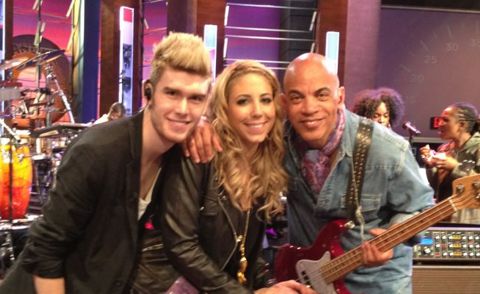 This past Friday our two most recent American Idol 2012 elimnations, Colton Dixon and Elise Testone, paid a visit to The Tonight Show. The former Idol hopefuls had a quick interview and then spent the evening performing alongside the band.
Colton Dixon stood by his defense that poor song choice, a Lady Gaga selection to be specific, cleared the path to his elimination and was pushed over the edge by strong performances by his competition. Leno saluted Colton's self-blame in lieu of pointing fingers for his departure.
Elise Testone explained that she wasn't surprised by her elimination during the Top 6 considering her many trips to the Bottom 3. She was clearly still disappointed, but staying positive and looking forward to what's next for her.
Elise Testone will have more media appearances this week so keep an eye out for your next chance to catch her on television. Colton Dixon finished most of his post American Idol 2012 press tour events last week and you can watch a few of those.