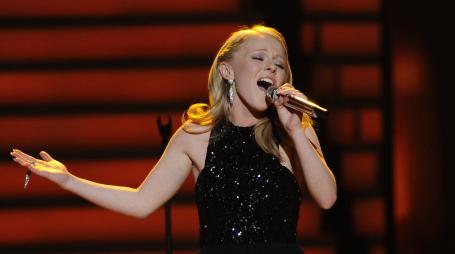 It was a battle of the sexes like never before for the American Idol 2012 Top 13 tonight. As we've learned, the bottom guy and the bottom girl will be up for elimination based on the judges' decisions.
That leaves us with a question about the American Idol judges' save that has been a big part of the show the past couple seasons. Will that return next week after they get past this stunt that is clearly a plot to eliminate a guy right away? It's anyone's guess.
On to the recap. As always, I'll review each performance and assign the letter grades I think each deserved.
In order of performance:
Joshua Ledet, "I Wish." Joshua is totally a natural. He was right in his comfort zone with this song. And even though he got a little screechy, he still had a very solid performance. His energy and presence were as strong as his vocals. A
Elise Testone, "I'm Your Baby Tonight." I wish I understood why she didn't make this song more her own. There was a slight blues-y spin on, but it wasn't in her comfort zone at all. And that's sad. I really don't want her to go home anytime soon because she has the most interesting voice among the girls. C+
Jermaine Jones, "Knocks Me Off My Feet." Well that was pretty boring. I heard a little bit of a range in his performance tonight so I know it's not all ultra low. But that seems to be where he stays — waaaaaay down there. And I'm not a fan of it. We all like the kind of music we like and sometimes there's no budging. I think Jermaine is never going to be able to break through with me. Luckily I don't count. Ha. C-
Erika Van Pelt, "I Believe In You And Me." Ugh. why did she pick this song? A lot of people are picked the wrong songs tonight, but this was one of the biggest mistakes. She's a rocker and this song is a powerhouse song. This is the kind of song Jennifer Hudson sings, not Erika Van Pelt. She's a great singer, but I just don't think she could pull this off. C
Colton Dixon, "Lately." Colton had a boring start but when it took off it really took off. He seriously went from a C to an A in a matter of seconds. A
Shannon Magrane, "I Have Nothing." I didn't think this performance was ALL bad. I even wrote in my notes that "this girl can f***ing sing." But then she blew that money note and was never able to recover. I think the judges unfairly focused on the bad. But hey, that's how it goes. D+
Deandre Brackensick, "Master Blaster." Eh. A little too Reggae for me. Deandre is a great singer and performer, but he made a very bad song choice tonight. He already didn't make it into the Top 13 based on America's votes, so he had to really sell it tonight to get some votes and I don't think he did. C+
Skylar Laine, "Where Do Broken Hearts Go." Skylar did things tonight that I didn't know she could do! I thought she was perfectly fine as a little country girl with a raw, classic-country sound. Then she belted out this song? I was like, whaaaat? I don't even like country but I found myself really rooting for Skylar tonight. Nice. A+
Heejun Han, "All in Love is Fair." Heejun gave us a softer side tonight and while it was a perfectly fine vocal, it wasn't very exciting. If there's a definition of a safe performance this was it. B+
Hollie Cavanagh, "All The Man That I Need." Her performance was perfect. Literally perfect. There's really nothing else I can say about it. A+
Jeremy Rosado, "Ribbon in the Sky." Much like Deandre, Jeremy has a lot to prove. And just like Deandre, he didn't deliver. Sure Jeremy is sweet and a great singer, but he didn't do what he needed to do tonight. He's at great risk tomorrow night. B-
Jessica Sanchez, "I Will Always Love You." I knew someone had to sing the song. I just didn't want it done in the style of Whitney. But Jessica changed my mind. And there's nothing I can say that hasn't been said. It was amazing. I think Hollie was still a little more perfect, but Jessica might have out-edged her with some emotion. A+
Phillip Phillips, "Superstition." PP in the pimp spot! I felt like I was at a Phillip Phillips concert. He's such a natural and it's all so effortless that I'm not sure he could suck if he tried. I like that his voice is one of the most unique in the contest. Like Jimmy Iovine said, he's a great musician AND a great vocalist. Which has been rare on American Idol in 11 seasons.
So how's it all going to play out tomorrow night? Well, this is what I think could happen. And as always, this is what I think COULD happen based ONLY on how I think America might vote. These are not who I think should go home. At all.
100 Percent Safe: Jessica Sanchez, Hollie Cavanagh, Phillip Phillips, Heejun Han, Colton Dixon, Joshua Ledet, Skylar Laine.
Most Likely Safe: Shannon Magrane, Elise Teston,  Deandre Brackensick and Jermaine Jones.
Most Likely the Bottom Guy: Jeremy Rosado
Most Likely The Bottom Girl: Erika Van Pelt
Most Likely the Judge's Elimination: Jeremy
Why? Because if they actually have the choice, there's NO WAY they're going to send a girl home. Since it normally takes weeks for a guy to be sent packing, I'm about 100 percent sure the producers will force them to pick the guy. No matter who it is. Jeremy could easily be replaced with Jermaine or Deandre, and Erika easily replaces with Elise, I think. But I have a stronger feeling with my first thoughts.
What did you think of the performances? Who do you think is in danger tomorrow night?