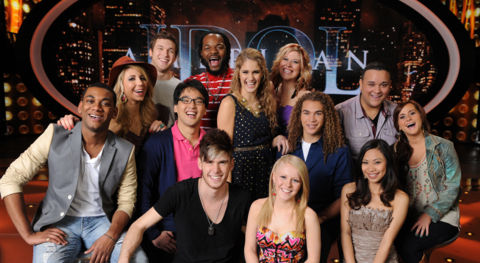 The American Idol 2012 Top 13 performances are set to launch and we'll post all the details here throughout the show. This will be the first time the two groups, girls and guys, will mingle and perform live for your votes. The guys will perform Stevie Wonder hits and the girls will take on Whitney Houston classics. Let's see if any of the season 11 singers follow Branden's song suggestions.
See what other American Idol fans are saying right now on our Idol Facebook page and join us in our Idol chat room while we review tonight's live show.
Ryan reveals this week's bottom guy and bottom girl will face off for the judges to pick who goes home this week. So the judges decide this week's elimination!
American Idol 2012 Top 13 Performances:
Joshua Ledet – I Wish – 1-866-436-5701
Elise Testone – I'm Your Baby Tonight – 1-866-436-5702
Jermaine Jones – Knocks Me Off My Feet – 1-866-436-5703
Erika Van Pelt – I Believe In You and Me – 1-866-436-5704
Colton Dixon – Lately – 1-866-436-5705
Shannon Magrane – I Have Nothing – 1-866-436-5706
DeAndre Brackensick – Master Blaster – 1-866-436-5707
Skylar Laine – Where Do Broken Hearts Go – 1-866-436-5708
Heejun Han – All in Love is Fair – 1-866-436-5709
Hollie Cavanagh – All the Man That I Need – 1-866-436-5710
Jeremy Rosado – Ribbon in the Sky – 1-866-436-5711
Jessica Sanchez – I Will Always Love You – 1-866-436-5712
Phillip Phillips – Superstition – 1-866-436-5736
Vote in the poll below for your favorite American Idol singer of the night. Share your thoughts in the comments section below!