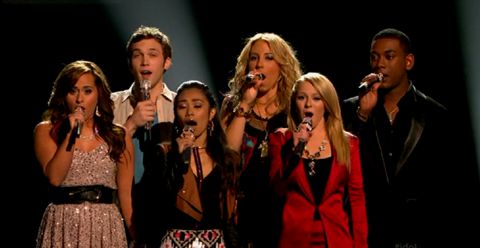 The American Idol 2012 ratings have continued to stumble with another drop in viewership this week for the Top 6 performances and results.
Wednesday night's live performance show drew in 16.8 million viewers, a few hundred thousand less than the previous week's 17 million viewers that same night. American Idol did still manage to grab a 4.8 share in the coveted 18-49 demographic which gives it the win of the night. Are more people switching to reading? There isn't a new vampire + werewolves + young wizard novel series out is there?
Things didn't get better for the American Idol 2012 season ratings on Thursday night. 14.8 million viewers tuned in to watch Elise Testone's elimination compared to 15 million the week before. This time around Idol wasn't strong enough to win the night and lost that title to CBS by just one tenth of a point in the 18-49 demo.
Ratings might be lower for American Idol, but as long as it continues to win or seriously challenge for the night's win then we'll be seeing lots more of Ryan Seacrest and company.