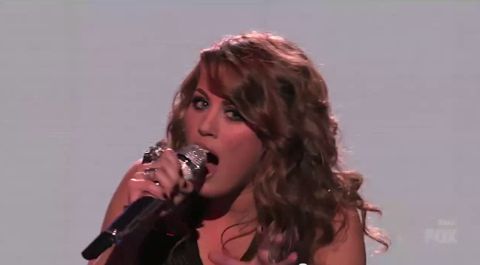 It's anything but "Classic Rock" but last night on American Idol 2013 Angie Miller delivered a very popular performance of Evanescence's "Bring Me To Life" hit song.
We were teased in this week's spoilers that Angie would be back behind the piano after last week's fiasco but that lasted just a moment before she climbed on a pedestal and finished the song out complete with wind blowing her hair back. Hey, at least she followed Jimmy's advice to stop being so dramatic.
Did Miller's performance in the Top 7 show deliver her to safety? Definitely. According to your votes in our poll she has an incredible 33% of the vote at the time of publishing. If she keeps that momentum rolling she could be right back in the position become one of the American Idol winners at the 2013 season finale.
Angie Miller – 'Bring Me To Life' Video
What did you think of Angie Miller's "Bring Me To Life" performance last night on American Idol 2013? Should she be sent home or sent to safety?