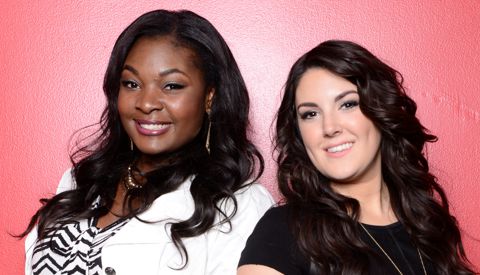 It comes to no surprise that American Idol 2013 winner Candice Glover and runner-up Kree Harrison's singles aren't selling as well as Phillip Phillips' "Home" did last year. But to be doing worse than Season 9 winner Lee DeWyze's cover of U2's "Beautiful Day" is just OUCH. Way  ouch.
Candice's "I Am Beautiful" first-week sales were at 54,000 downloads. Kree's "All Cried Out" came in at 24,000. Phillip's "Home" last year fetched a whopping 278,000 downloads. Lee's "Beautiful Day" rounded out at about 100,000 in 2010. So to be that much lower than Phillip and still almost 50,000 less than Lee is not good news.
To make things even worse, Candice was also beat by Season 10 runner-up Lauren Alaina's "Like My Mother Does" who had around 122,000 downloads during that first week after the 2011 finale.
Below are  how all the winners first-week sales went:
1) Ruben Studdard, "Flying Without Wings" – 286,000
2) Phillip Phillips – "Home" – 278,000
3) David Cook, "The Time of My Life" – 236,024
4) Kelly Clarkson, "A Moment Like This" – 236,000
5) Taylor Hicks, "Do I Make You Proud" – 190,147
6) Scotty McCreery – "I Love You This Big" – 171,404
7) Fantasia, "I Believe" – 142,141
8) Kris Allen, "No Boundaries" – 134,458
9) Carrie Underwood, "Inside Your Heaven" – 131,504
10) Lee Dewyze – "Beautiful Day" – 95,000
11) Jordin Sparks, "This Is My Now" – 74,303
12) Candice Glover – "I Am Beautiful" – 54,000
So we can't exactly predict success based on those first-week sales. Look where Carrie Underwood ranked. I think "I Am Beautiful" just isn't a song that stacks up to others like "Home" and "A Moment Like This."