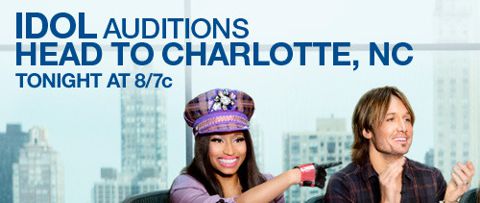 Tonight on American Idol 2013 the judges head to Charlotte for more auditions and while we will have our recap posted shortly (Charlotte auditions recap here), here's an open thread for readers to share and discuss the episode.
We know there will be drama between the divas. We've been waiting for this episode since October. But there will also be talent. Lots of talent, and like Clay Aiken said, that's what this season should be about: the singers.
So join us in our Idol Chat Room , start posting your thoughts in the Comments section below, or check out Reality Rewind's live recap. Feel free to discuss your favorite singers, try to figure out a new song, or vent your frustration about the direction the producers are taking.
We're glad you're here and ready to share another Idol season with us!
Update: We're seeing lots of familiar faces in the Golden Ticket winners line tonight including Jimmy Smith who wow'd the judges and earned four "yes" votes. Have you spotted any others off the 2013 Top 40 spoilers?
Update 2: Want to hear more from the Carson band featuring Taisha Bethea? Check out our profile of Carson for songs and a video.