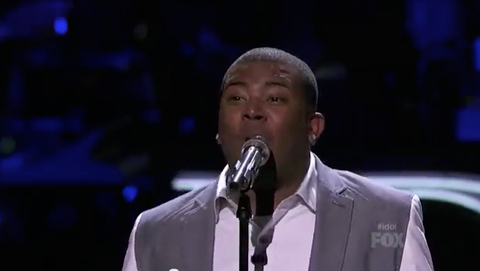 This past week on American Idol 2013 we said goodbye to Curtis Finch Jr when his journey came to an end on Thursday night. After Curtis dropped to the Bottom 2 judge Nicki Minaj warned host Ryan Seacrest that if he went home then so would she. That didn't stop the inevitable though as Ryan revealed that yes, Curtis had been eliminated.
A talented singer to be sure, you can watch Curtis' best moments here, but we saw the writing on the wall when he came up at the bottom of our performance poll and Branden accurately predicted a Devin Velez and Curtis Finch Jr Bottom 2. Fans of Curtis shouldn't worry though as the singer remains in very high spirits and is grateful for his opportunity of time on American Idol 2013.
Endless gratitude to the judges & all they've done to prepare me for what is to come! @mariahcarey @nickiminaj @yo_randyjackson @keithurban

— Curtis Finch (@CurtisAI12) March 15, 2013
Watch Curtis' post-Idol interview below and see what he is taking away from the experience and what he hopes to do for 2013 after his journey on American Idol.
Source: American Idol News & Twitter