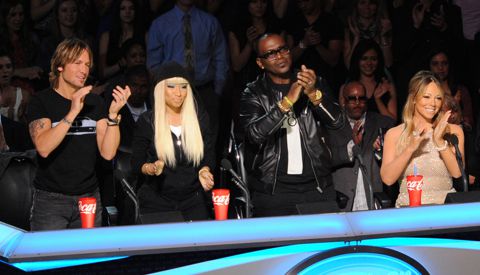 Tonight on American Idol 2013 the Top 10 finalists will be whittled down to the Top 9 as the singer with the fewest votes this week will be eliminated from the competition.
We've received thousands of votes in our "who was the best?" poll and the readers so far believe Candice Glover, Angela Miller, and Kree Harrison are in the top 3 while Curtis Finch Jr, Burnell Taylor, and Janelle Arthur are in the bottom 3. It'll be exciting to see if all our voters accurately predict tonight's results.
Along with tonight's results where we'll learn who got voted off American Idol 2013 this week will be performances by Bon Jovi with "Because We Can" and Phillip Phillips with "Gone, Gone, Gone."
The action doesn't stop there though. Remember that little wild card situation from last week where it was revealed the 6th place guy and girl would battle for the 11th spot on the summer tour. That's going to get resolved tonight too.
Check back in here on this post as we live recap tonight's American Idol 2013 results!
Awesome news from Ryan Seacrest! He'll be revealing the Top 3, but not the actual order. We will also learn more about the results in great detail which so far is just highlighting which states and areas the singers best performed. Interesting.
So far all you readers who voted in our poll have correctly identified Candice and Kree as members of the Top 3. Angela has to be in there too, right? Way to go, everyone!
While we wait for that last spot in the Top 3 and all of the Bottom 3 we move on to the Wild Card battle tonight on American Idol. Earlier I predicted we'd see Charlie Askew and Aubrey Cleland in those spots. Guess who showed up? Yep. Nailed it. No results on that battle tonight, but you can start voting tonight and the results will be revealed next week. Share your vote in our poll right here for tonight's Wild Card competition.
We get our last Top 3 member and … yes! You all were right again. Angela Miller takes the final spot in the Top 3. The ladies are truly going to rule this season.
Now we're getting the actual results order for spots #4 through #8 and sure enough, Devin Velez and Curtis Finch Jr are in the Bottom 2 just like Branden predicted!
Ryan reveals the last place singer is… Curtis Finch Jr. He'll now get to sing for his Idol life. Nicki Minaj had just told Ryan Seacrest that Curtis didn't deserve to be in the bottom two and she'd go home if he did. Sure enough she gets up and walks away from the judges table when the results are revealed, but soon comes back to her seat.
Randy confirms that the judges will not use the Judges Save and Nicki is visibly agitated by the decision. All judges had to be in agreement and they were not. Nicki says they needed another minute to debate, but Ryan goes ahead and confirms that Curtis Finch Jr was voted off American Idol tonight.
American Idol 2013 Top 10 – Top 3:
Candice Glover
Kree Harrison
American Idol 2013 Top 10 – Bottom 3:
Devin Velez
Curtis Finch Jr
American Idol 2013 Top 10 – Elimination Result:
The following singers are safe and make up your American Idol 2013 Top 9:
#? – Candice Glover
#? – Kree Harrison
#? – Angie Miller
#4 – Lazaro Arbos
#5 – Amber Holcomb
#6 – Janelle Arthur
#7 – Burnell Taylor
#8 – Paul Jolley
#9 – Devin Velez
What do you think of tonight's American Idol results?