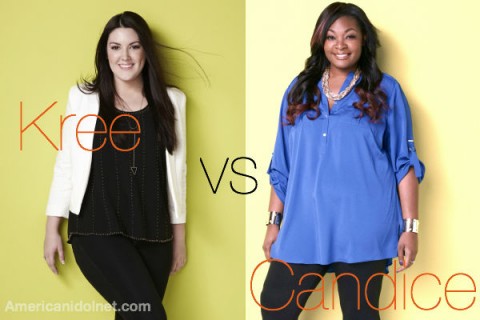 It's hard to believe that American Idol 2013 finale week is here, but it is! And we're only one day away from learning who takes the title this year, Kree Harrison or Candice Glover.
Before we get to that however, we've got tonight to contend with. We've got the three performances that are going to help America decide who should win because from nearly every poll (including our own), predictions and betting odds websites, it could go either way. It's that close. So let's get to this and see who has the best performances of the night and will likely take the crown.
As usual, I'll be reviewing each performance and assigning the letter grade that I think each one deserves. And I'm covering it live, so please follow along and feel free to write your own reviews as we go in the comments section below!
American Idol 2012 Final Two Performances 
Round One: Simon Fuller's Choice
Kree Harrison, "Angel." First of all, dumb song choice, Simon Fuller. If he's still wondering what's wrong with his show, he might want to look in the mirror. But anyway, even though it's a night of noting but ballads, Kree turned it out the best she could with this slow song that has ZERO big moments. Foolish Fuller. Grade: B+
 Candice Glover, "Chasing Pavements." Another awful song choice. We made it all season without an Adele song and Simon Fuller has to force one onto Candice. And it was as boring as I imagined it would be. There were a few bigger moments than Kree's song, but it's a flat song. Candice did what she could with it. Grade: B+
Round one winner: Candice. Just because of the bigger moments. Or Kree because of the emotion. OK, it's a tie.
Round Two: Coronation song (winner's single)
Kree Harrison, "All Cried Out."  This was a great song for Kree to showcase her vocals. And she do so quite well. I didn't love the song as a song though. I don't really think I'd keep it on if it came on the radio. Grade: A-
Candice Glover, "I Am Beautiful." This is definitely a better song. And Candice's vocals were spot-on. It was big, it was bold, it was beautiful. Sorry, I couldn't resist. Grade: A+
 Round two winner: Candice. Clearly. It was just a better song.
 Round Three: Reprisal song
Kree Harrison, "Up To The Mountain." Kree didn't do anything differently this time (Aside from the smoke and chorus. Ha). Which I guess is OK because it was a great performance the first time. Overall it was a sweet and powerful performance. Grade: A+
Candice Glover, "I Who Have Nothing." See, Candice changed it up. So bonus points for that. An a cappella opening!? Come on! That's bold! Fantastic. That was phenomenal. That was a winning performance if I ever heard one. From a cappella to a POWERHOUSE, huge, big, every other adjective I can think of vocal. Grade: A++
Round three winner: Candice. No question.
I think, according to my calculations, Candice wins the night. Will America agree? Do you agree? Who do you think won the night and who do you think will be crowned the winner of American Idol Season 12 tomorrow night?